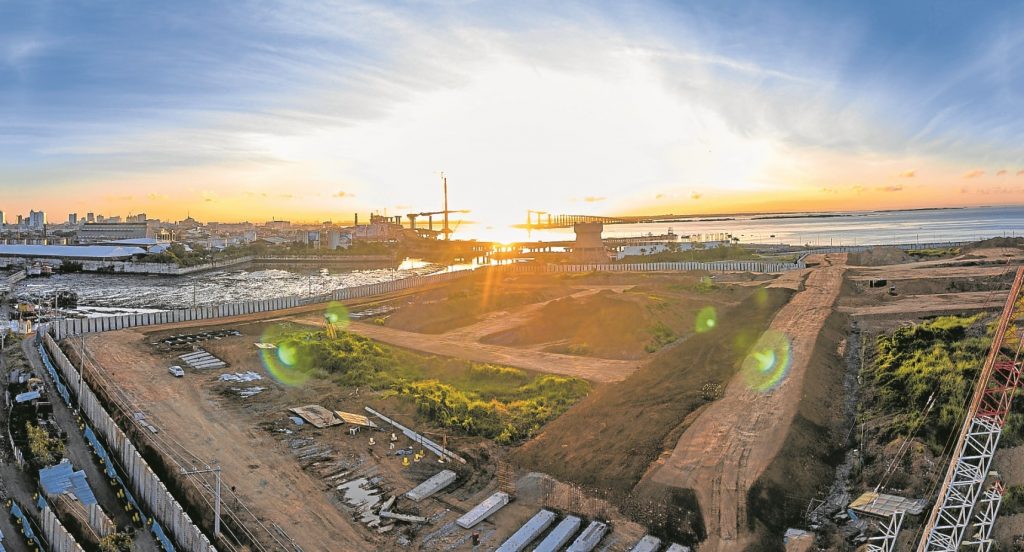 CEBU CITY—Not even the COVID-19 pandemic can stop this new "city" from rising at the South Road Properties, a 300-hectare reclaimed area in the southern part of Cebu City.
The construction of the South Coast City is in full swing—while strictly complying with health protocols—to meet its target completion by the second quarter of 2022.
The South Coast City is a 26-hectare waterside development, considered a new "bright spot" as it is envisioned to be Cebu's "new home of prime entertainment and commercial concepts.
"It is done in partnership between two of the country's biggest property developers—Ayala Land Inc. (ALI) and SM Prime Holdings Inc. (SMPHI), along with Ayala's Cebu Holdings Inc.
Inside the new "city" will be a commercial center, known as District Square, and a 1.1-hectare park called Central Park that will be developed by ALI.
Already onsite is SM Seaside, the biggest mall in the Visayas-Mindanao region, and the Pedro Calungsod Shrine, which is known for its iconic design. SMPHI is also constructing a complex composed of a 16,000-seater arena and a convention center in the South Coast City.
A pedestrian bridge will be built to connect the Arena/Convention complex to SM Seaside Mall crossing F. Vestil Road, as well as to Central Park.
Despite the COVID-19 pandemic, land development of the South Coast City is already about 65 percent completed, about nine months into its target completion in May 2022. To follow in June 2022 is the District Square.
The District Square will be the third business district in Cebu City, according to Anna Ma. Margarita Dy, senior vice president and head of Ayala Land Estates Group. The two others are Cebu Business Park and Cebu IT Park.
Economic core
The District Square is described as a "one-of-a-kind opportunity for business growth among investors, corporations, and entrepreneurs."
Considered the "economic core of the estate," District Square covers 2.7 hectares with 11 commercial lots for sale, all ranging from 1,777 to 2,601 square meters.Dy, however, declined to divulge the prices of these lots although ALI had already started its preselling and had received offers from interested investors.
A prime commercial waterside destination, it is located in front of the Cebu Strait and at the northern entrance of South Coast City.
An integral part of the development is the Central Park, a 1.1-hectare tree-covered oasis, which links the entire park system of the estate and is just a few steps away from the estates' commercial center.
Jonas Suan, architect of the project, said they were planning to use endemic and local trees to provide nice shade and not just for aesthetic purposes.
Iris Josef-Mediano, head of Ayala Land Estate for the Visayas, said the 35-meter wide park allows outdoor activities from strolling to dining at the shops facing the park.
"The pandemic reminds us how important outdoor spaces are as venues for people to have a healthy lifestyle. They are big and flexible enough to allow for convergence of many people or to allow sufficient distance to make individual activities possible," she said.
Pedestrian system
Mediano said in the plans were 3-to-6 lane street sections with dedicated bike lanes, crosswalks and sidewalks.
"The transport challenges due to the lockdowns highlighted the necessity of providing safe and convenient access not only to motorized vehicles but other more sustainable forms of transport like bicycles and even walking," she added.
Mediano said the underground infrastructure base of District Square was expected to address the "exacting demands" of digital industries and the increasing needs of a virtually connected world. These include underground power cables connected to two main power grids and an underground telecommunication system capable of hosting multiple service providers that allow for redundancies.Mediano said they had worked with telecommunication providers especially Globe and provided for additional infrastructure for both aerial and wired connections that will allow smart solutions and more complex digital services.District Square will also have its own pedestrian park system, which directly links to the central park.
It will be lined with retail and dining concepts as well as areas for intimate events, Mediano said. Close to P90 billion would be spent by Ayala for its development in South Coast City.
"Ayala Land would have spent P30 billion in the project by 2031 or 10 years from now and close to P90 billion by the time the project is completed. Roughly 20 percent of this spend is for the land and land development and 80 percent for the various buildings and leasing assets to be constructed," Dy said.
Growth center
But the investment is all worth it as the estate is envisioned to be not just the gateway into Cebu City but also an epicenter of growth.
For one, it is strategically located: 2 kilometers from the Cebu South Bus Terminal; 4 kilometers from the Cebu City Seaport; and just 11 km from Mactan Cebu International Airport.It is accessible through major highways including the Cebu South Coastal Road and the upcoming Cebu-Cordova Link Expressway or third Mactan Bridge, which connects Cebu mainland to Mactan Island, which is home to an international airport and beach resorts.
"As one of the country's fastest developing hubs, we believe this development will not only put a spotlight on Cebu as a destination of future growth —but will likewise elevate experiences and opportunities for Cebuanos and visitors alike," said Bobby Dy, president and CEO of Ayala Land. — BY CONNIE FERNANDEZ-BROJAN