From family reunions to work meetings to online classes, our devices' screens have become a constant companion amid this relentless pandemic.
But while a recent study has revealed how much Filipinos now rely on video calls to stay connected to each other, they can't seem to keep their eyes glued to one activity on their screen—showing that despite the benefits of video communication and people's increasing patronage of it, Filipinos still have a love-hate relationship with these kinds of platforms.
According to a survey by Uniphore, a conversational service automation company that aims to "enable businesses to deliver transformational customer service by providing an automation platform where digital agents take over transactional conversations from humans, coach agents during calls, and accurately predict language, emotion and intent," Filipinos have easily adopted the use of video conferencing tools, with 72 percent using these to keep in touch with friends and family, 63 percent for education, and 50% for work, and 34 percent for events.
The online survey, conducted in June among 2,100 consumers across the Philippines, Australia, India, Indonesia, Japan, Malaysia, Singapore, UAE, and Vietnam, as well as 1,000 in the US, by market research consultancy Reasearchscape International, also found that 84 percent and 65 percent of Filipinos would still use video conversations in the future for family gatherings and meetings with teachers, respectively.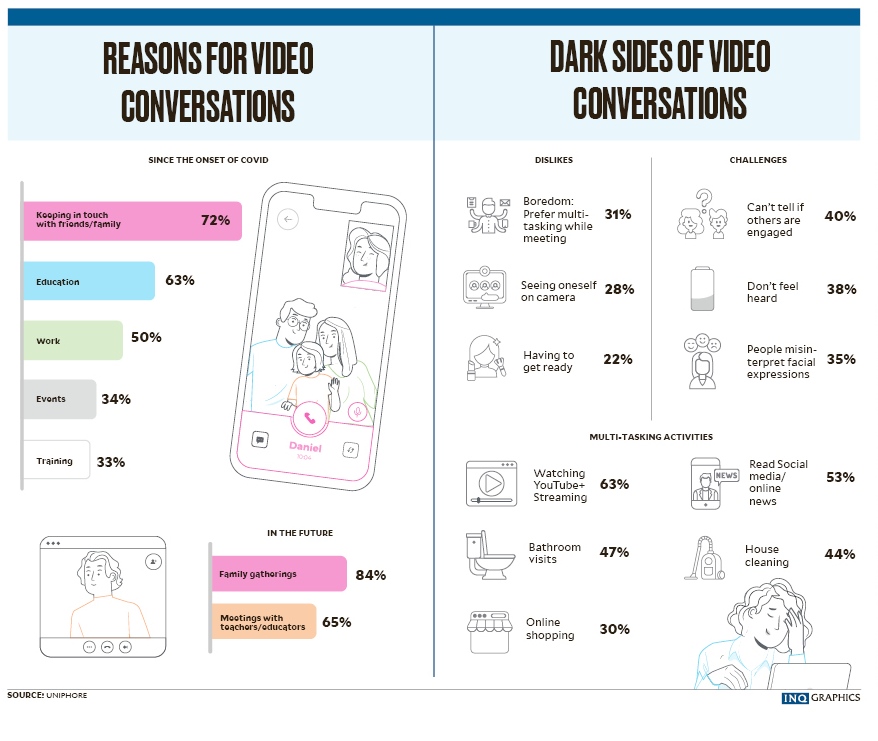 However, with distractions everywhere, even on the screens of video conferencing platform users, survey respondents have admitted to "multitasking" while on a call, dividing their attention between their conversation and a Youtube or other streaming video (63 percent); going to the bathroom (47 percent); cleaning the house (44 percent); and—what else—online shopping (30 percent).
"Since the start of the pandemic we've witnessed the widespread adoption of video conversations across personal and professional engagements," says Umesh Sachdev, CEO and co-founder of Uniphore, "As the survey results revealed, there is still work to do to make virtual interactions as seamless and effective as in-person conversations."
While video conversations have allowed Filipinos to engage and connect with others, they also say that they find the experience less than enjoyable because it is boring (31 percent). The fact that they perceive that they need to be "camera-ready" (28 percent) and their dislike of having to be camera-ready (22 percent) is also adds to Filipinos' video conversation issues.
And despite seeing the people they are talking to onscreen, Filipinos still say that they can't gauge whether or not they have their audience's full attention (40 percent); that they don't "feel heard" (38 percent); and that facial expressions get misinterpreted (35 percent).
What Uniphore highlights, however, is that this study has also revealed that Filipinos are looking for ways to improve their video calls and make them more effective and enjoyable. Specifically, 87 percent of respondents, who are in the 18 to 65 age range, say they are open to AI or automation tools that would complement their video conferencing platforms, specifically to give them tips on how to engage with other speakers (62 percent), develop deeper connections (46 percent), and still multitask, albeit more discreetly (45 percent).
"There is a clear need for additional tools and capabilities to enhance higher degrees of people-to-people understanding," says Sachdev.
"Through AI and automation technology, companies and business leaders can create better experiences for customers, pick up on nonverbal cues that they may have missed, and provide insights using data that is decipherable and actionable."