The coun­try's power play­ers are lead­ing the charge into re­new­able en­ergy (RE), rolling out projects to meet grow­ing de­mand while keep­ing an eye on the fu­ture with in­vest­ments in in­no­va­tion and new tech­nolo­gies.
These in­dus­try movers in­clude AC En­ergy Corp., which is look­ing at proven so­lu­tions it can de­ploy at scale, and Aboitiz Power Corp., which has started to com­bine hydropower and so­lar so­lu­tions to in­crease ca­pac­ity.
Citi­core Power Inc. is look­ing at the busi­ness an­other way as it brings agri­cul­ture into the fold while Manila Elec­tric Co. (Mer­alco) is build­ing up its clean power port­fo­lio while ex­pand­ing the use of so­lar rooftops.
The com­pa­nies are also in­vest­ing in bat­tery stor­age sys­tems to in­crease the re­li­a­bil­ity of their power sup­ply—one of the big­gest con­straints as­so­ci­ated with re­new­able energy.
"With stor­age, we can store the power and re­lease when you need it whether at night or when de­mand is high," John Eric T. Fran­cia, AC En­ergy pres­i­dent and CEO, told the In­quirer in an in­ter­view.
SE Asia is AC En­ergy's stage
AC En­ergy, among the lead­ers in so­lar and wind power in the Philip­pines, is gun­ning to be­come the big­gest listed re­new­ables plat­form in South­east Asia once it reaches its 5,000-megawatt goal by 2025.
To ad­dress in­ter­mit­tent power, he said the com­pany was in­vest­ing in in­dus­trial-scale lithium ion bat­tery stor­age fa­cil­i­ties, sim­i­lar to the tech­nol­ogy used in mo­bile de­vices and Tesla elec­tric cars.
Fran­cia said their 40-MW bat­tery stor­age project be­side the re­cently-opened 120-MW so­lar power plant in Alaminos, La­guna would be com­pleted by the fourth quar­ter of 2022.
Aboitiz Power, which is tar­get­ing a 4,600-MW "clean­ergy" port­fo­lio by 2030, is also in­vest­ing in bat­tery stor­age fa­cil­i­ties start­ing with its power projects in Lu­zon and Min­danao, said Maria Leene Camo, Aboitiz Power cor­po­rate com­mu­ni­ca­tion su­per­vi­sor, in an email.
For ex­am­ple, the group has com­pleted site sur­vey and ba­sic en­gi­neer­ing de­signs for its SN Aboitiz Power (SNAP) Ma­gat bat­tery en­ergy stor­age sys­tem, Camo said.
'Float­ing so­lar' projects of Aboitiz Power
The SNAP-Ma­gat owns and op­er­ates the Ma­gat Plant with a ca­pac­ity of 360 MW.
To max­i­mize power out­put, Camo said they were de­vel­op­ing an­other 150 MW of "float­ing so­lar" projects, which are an­chored to the base of the dam, af­ter the suc­cess of its pi­lot fa­cil­ity in 2019.
The so­lar pan­els are in­stalled and ar­ranged on large float­ing discs, whose de­sign was in­spired by the Ama­zon water lily, the com­pany said.
Ad­van­tages to the project in­clude max­i­miz­ing the use of water sur­face area and re­duc­ing evap­o­ra­tion, which are im­por­tant dur­ing dry pe­ri­ods such as dry spell or drought.
AC En­ergy and Aboitz Power are backed by di­ver­si­fied con­glom­er­ates Ayala Corp. and Aboitiz Eq­uity Ven­tures.
Crops be­neath Citi­core's so­lar pan­els
At the same time, ris­ing power com­pany Citi­core Power, a sis­ter firm of listed Me­gaw­ide Con­struc­tion Corp., is purs­ing in­no­va­tions on its so­lar plants.
Ac­cord­ing to Citi­core Power pres­i­dent Oliver Tan, the com­pany in­tro­duced a "spe­cial coat­ing" on its projects that al­lowed them to cap­ture more sun­light even when skies were cloudy.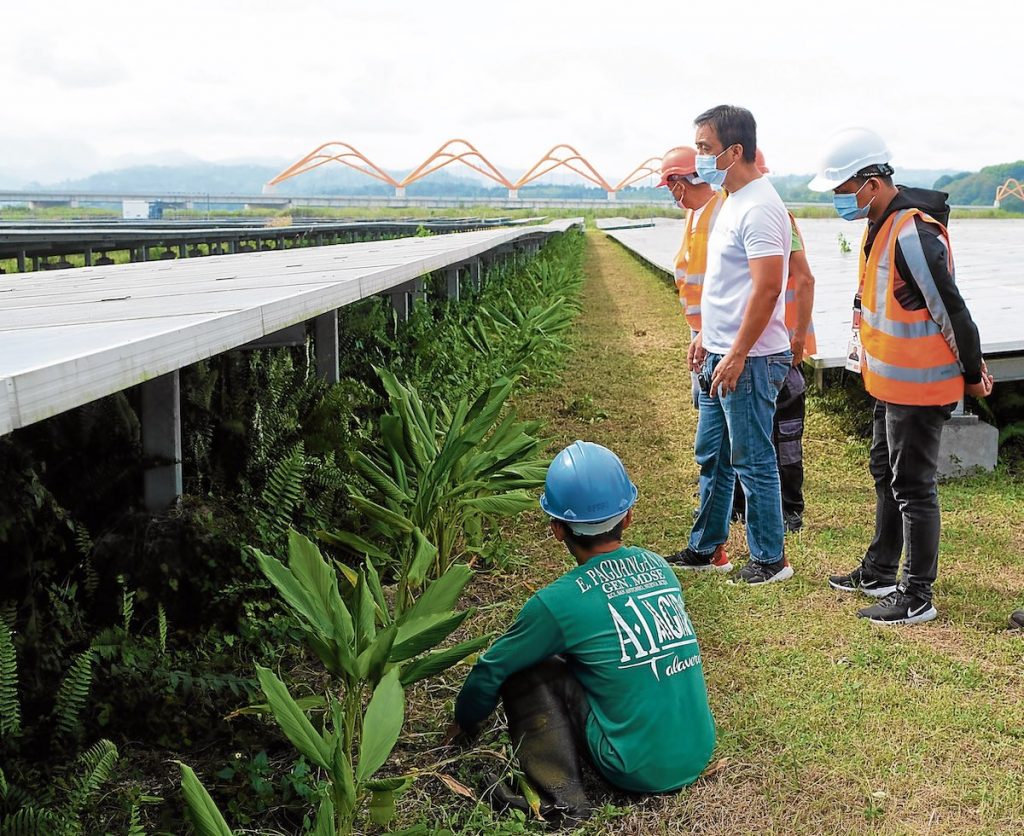 Citi­core Power, which is tar­get­ing 1,500 MW of so­lar power ca­pac­ity by 2025, sees its projects tak­ing on an agri­cul­tural flair as it found a way to plant high-value crops such as turmeric be­neath ar­rays of el­e­vated so­lar pan­els.
Since so­lar plants re­quire huge tracts of land, the com­pany's "agro-so­lar" con­cept will en­able farm­ers to gen­er­ate in­come within the same prop­erty.
"This is our hum­ble way of con­tribut­ing to 'net zero emis­sion' move­ment and in­clu­sive growth," Tan said in an email.
So­lar pan­els on ev­ery rooftop
Mer­alco, the coun­try's largest elec­tric­ity dis­trib­u­tor, is also build­ing up its re­new­able ca­pac­ity with a 1,500-MW tar­get in the next 5-7 years.
Through Mer­alco Pow­er­Gen Corp., the com­pany opened a 50MW so­lar power plant in Bu­la­can prov­ince last year. More­over, af­fil­i­ate Spec­trum is widen­ing so­lar panel in­stal­la­tions across homes and busi­nesses, no­tably the City of Dreams in­te­grated casino along Manila Bay.
The part­ner­ship will in­volve the in­stal­la­tion of 3,120 so­lar pan­els on the casino's park­ing build­ing—enough ca­pac­ity to power 185 heavy-duty air con­di­tion­ers.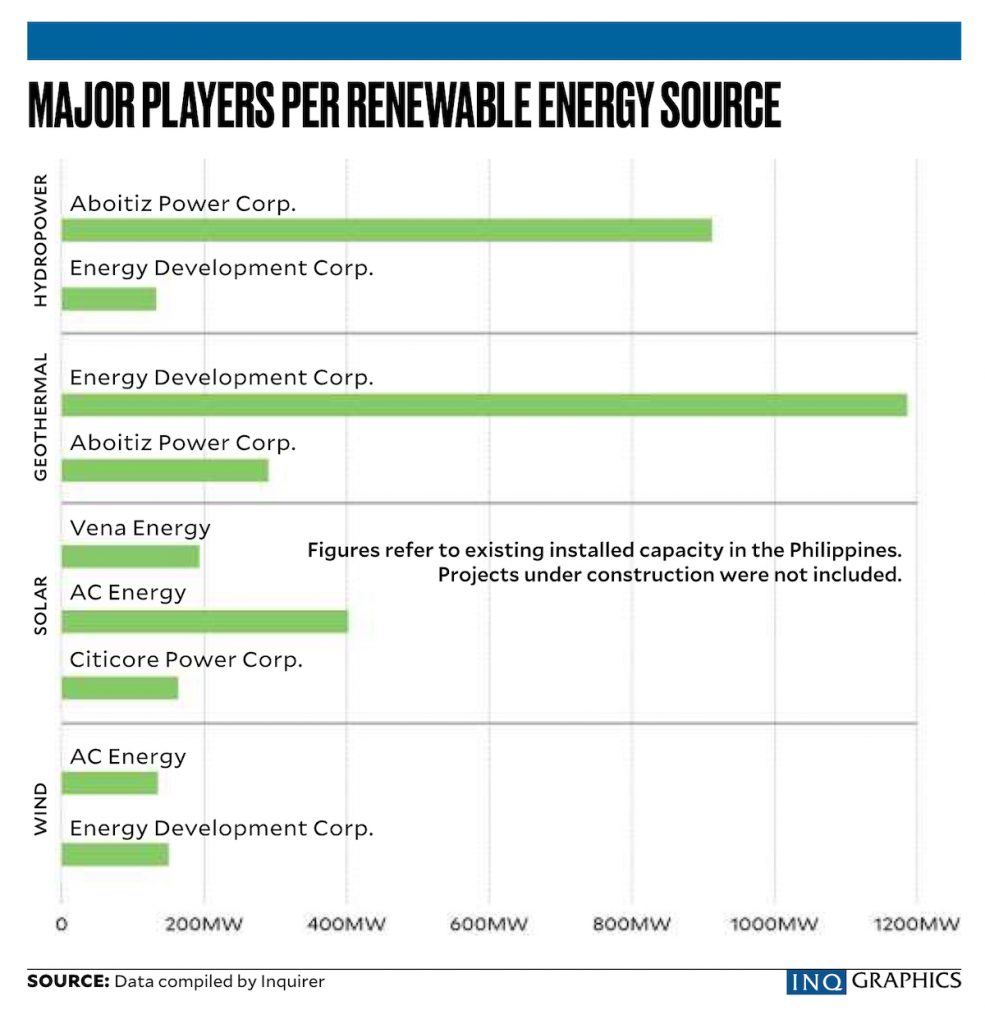 Cap­i­tal mar­ket plays
Along­side govern­ment reg­u­la­tions sup­port­ing the shift to cleaner en­ergy sources, com­pa­nies mov­ing in this di­rec­tion are get­ting a boost from in­vestors.
Citi­core Power is ready­ing the list­ing of its so­lar as­sets on the Philip­pine Stock Ex­change (PSE) through a pi­o­neer­ing en­ergy-themed real es­tate in­vest­ment trust of­fer­ing that could raise up to P10 bil­lion.
"The cap­i­tal mar­ket plays an im­por­tant cat­a­lyst to build more re­new­able en­ergy and re­lated in­fras­truc­ture," Tan said.
AC En­ergy, which also has wind and so­lar in­vest­ments in Viet­nam, In­done­sia, Aus­tralia and In­dia, was in­cluded in the bench­mark PSE In­dex ef­fec­tive Aug. 16 this year af­ter meet­ing strin­gent re­quire­ments.
Fran­cia said the com­pany had con­tin­u­ously in­vested in in­no­va­tion and new projects since 2019. "I don't think we will stop putting shovel to the ground," he said.
And while the un­der­ly­ing phi­los­o­phy at AC En­ergy was to build on tech­nolo­gies that were proven and scal­able, the com­pany was also keep­ing close tabs on emerg­ing in­no­va­tions.
He said AC En­ergy es­tab­lished a 5-MW RE Tech Hub in Bataan where test­ing was on­go­ing for around 30 dif­fer­ent tech­nolo­gies fo­cused on so­lar and en­ergy stor­age.
Other in­no­va­tions also come with nat­u­ral ad­vance­ments in tech­nol­ogy, which the com­pany learned from its wind farms.
"Big­ger is bet­ter," Fran­cia said, ex­plain­ing that the com­pany was now build­ing larger wind tur­bines since these were fea­si­ble to op­er­ate when wind speeds slowed down.
Off­shore and even float­ing wind farms of­fered ex­cit­ing prospects once costs fall and tech­nol­ogy im­proves over the next decade, Fran­cia said.
First Gen's steam power
There were also new tech­nolo­gies that would make re­new­able sources such as geo­ther­mal power more re­li­able, said Fed­erico Lopez,
CEO of First Gen Corp., which con­trols more than half of the coun­try's geo­ther­mal ca­pac­ity un­der En­ergy De­vel­op­ment Corp.
In a re­port pub­lished last Feb. 22 by IHS Markit, Lopez was quoted as say­ing the use of ar­ti­fi­cial tech­nol­ogy and con­nected de­vices, known as the In­ter­net of Things, were in­creas­ing ef­fi­ciency in the en­ergy sec­tor.
He also dis­cussed tools such as time of use, pric­ing and flex­i­ble de­mand re­sponses to deal with power in­ter­mit­tency that was closely as­so­ci­ated with re­new­able en­ergy.
For Aboitiz, non­re­new­able sources were still needed for de­pend­able power but the grad­ual shift to clean power, en­abled by tech­no­log­i­cal in­no­va­tion, was un­der­way.
"To the ex­tent that we will fully tran­si­tion to re­new­able en­ergy will de­pend on the tech­nol­ogy ad­vances in car­bon cap­ture, en­ergy stor­age and other forms of en­ergy gen­er­a­tion," Camo said.
"Right now, to­gether with our part­ners, we are the largest owner and op­er­a­tor of re­new­able en­ergy in the coun­try, based on in­stalled ca­pac­ity, and we in­tend to con­tinue to lead the clean en­ergy tran­si­tion into the fu­ture," she added.
This story was first published in the August 27, 2021 issue of the Philippine Daily Inquirer's Road to Clean Energy special report.