If goods and services are seemingly moving smoothly and effortlessly despite the COVID-19 pandemic that continues to rage not just in the Philippines but around the world, then people in the logistics and supply chain field deserve much of the credit.
They showed flexibility, ingenuity and adaptability in responding to the challenges posed by a health crisis that continues to restrict movement by people.
Although caught by surprise, like everyone else, by COVID-19, the industry quickly regained its bearings and responded to the changing needs and requirements of the market.
To be sure, adapting to the new situation was not painless and without cost, industry representatives said at a recent edition of the Inquirer Project Rebound webinar series. The session that focused on "Logistics and Supply Chain: Capturing Gains, Boom in PH Logistics" was moderated by Inquirer's Pam Pastor, Lifestyle section assistant editor, and Daxim Lucas, Business section senior reporter.
Ricky Isla of budget carrier Philippines Air Asia pointed out that passenger flights dropped by about 80 percent. "We transformed and innovated to keep the business going," he said. Instead of scheduled commercial flights, the airline took on chartered flights. "We also totally changed the business model in cargo and logistics."
While before Air Asia simply saw to it that cargo was brought from airport to airport, it was now concerned with the "last mile", or final destination, ensuring that the cargo reached the intended recipient.
Daniel Ventanilla of the Transnational Diversified Group (TDG) said, as the movement of people almost stopped – and is still greatly curtailed – the movement of goods and services, of cargo, was suddenly thrust into the forefront. Demand for moving goods had always been high but disruptions in the supply chain raised costs.
"We have to focus on cargo logistics" to keep rates reasonable.
TDG offers logistics, ship management, tourism and information technology services.
The explosion of e-commerce resulting in the massive growth in the number of online sellers and merchants, who were able to reach people sheltering at home, also meant an increase in the demand for the services of Ninja Van Philippines, a parcel delivery service.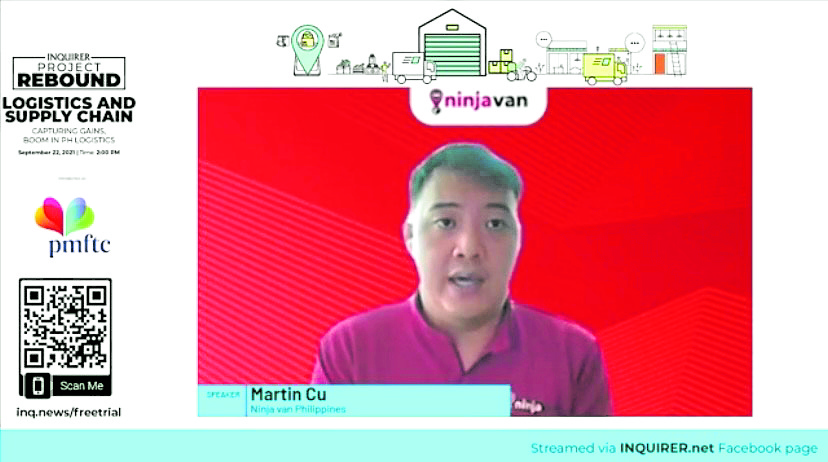 But Ninja Van's Martin Cu stressed that it was not just a question of getting a parcel to the right recipient. "Quality is very important. How a product arrives at its destination matters," he said. The company relies on technology, connecting with its riders and couriers to ensure consistency and efficiency in service.
"We have to offer the right kind of solution and use all kinds of transport – sea, land, air," Cu said. He expressed his appreciation for his delivery team, which sometimes had to improvise – using pushcarts or carabao, among other things – to complete a delivery.
Chryss Alfonsus Damuy of Chelsea Logistics and Infrastructure Holdings Corporation, the country's biggest shipping and logistics company, said "delivery was no longer just a question of necessity but also of survival" during the pandemic, which put logistics in the forefront. Logistics was very important in the delivery and distribution of anti-Covid vaccines throughout the country.
The growth of e-commerce, he said, also made it necessary for them to attend to both mid mile (moving goods from a warehouse or distribution center to stores) and last mile delivery. Chelsea was also offering solutions to emerging problems, including warehousing, and end-to-end service, not just shipping.
All four panelists expected that the use of technology, and digitization in particular, in logistics and supply chain would continue to grow, not only to get through this pandemic but also to move past it.
Damuy said, "(Digitization) was actually starting before the pandemic. Covid simply hastened the adoption of new technology," he said.
"The changes caused by the pandemic will be permanent and will further improve," Isla said. The new applications and digital tools, he said, had already gained a strong traction with consumers.
Every logistics challenge, Ventanilla said, was an opportunity and long-term solution. "The crisis stressed the need for resilience, quick action, adaptability and transparency."
Cu, who said the Covid crisis was "transformational" for the industry, said e-commerce was here to stay. Online transactions, automation and digitization would continue to grow.