After its recent declaration of an ambitious commitment to plant 2.5 million bamboo clumps and a million trees in the Philippines in the next three years, Nestlé Philippines has once again embarked on another sustainability initiative that seeks to address the impact of climate crisis in the country, and is inviting young Filipinos to take part in ensuring a better future for them by helping save the environment.
The leading food and beverage company launched "Klimathon" ("klima" plus hackathon), that seeks solutions to the climate crisis among the youth, with a mentoring component akin to an innovation lab where experts share their knowledge and guide young idealists in coming up with measures that help achieve a "net-zero" future.
Net-zero is a state where the amount of greenhouse gases produced by human activity has been completely negated through the reduction in emissions and the implementation of measures to absorb cardon dioxide. And Nestlé Philippines is committed to achieve this by 2050, in line with its parent company's initiatives on sustainability.
Greenhouse gases trapped in the atmosphere cause global warming, in turn resulting in climate change.
"As the world's biggest food and beverage company, we have to help make a real impact, and take a leading role in tackling climate change," Kais Marzouki, Nestlé Philippines chair and CEO, said at the recent virtual launch for Klimathon.
He also reiterated the company's commitment to help the government achieve its goal of reducing greenhouse gas emissions by 75 percent by 2030, in line with the Paris Agreement.
Marzouki said Nestlé Philippines aims to fulfil this commitment, as well as its goal for a net-zero future, by focusing on three pillars—tackling plastic problems, lowering greenhouse gas emissions, and improving food security.
For Klimathon, applicants were encouraged to develop solutions related to any of the three mentioned pillars.
Nestlé Philippines partnered with the Climate Change Commission, the lead government agency tasked to spearhead the country's climate change initiatives, in running the innovation lab.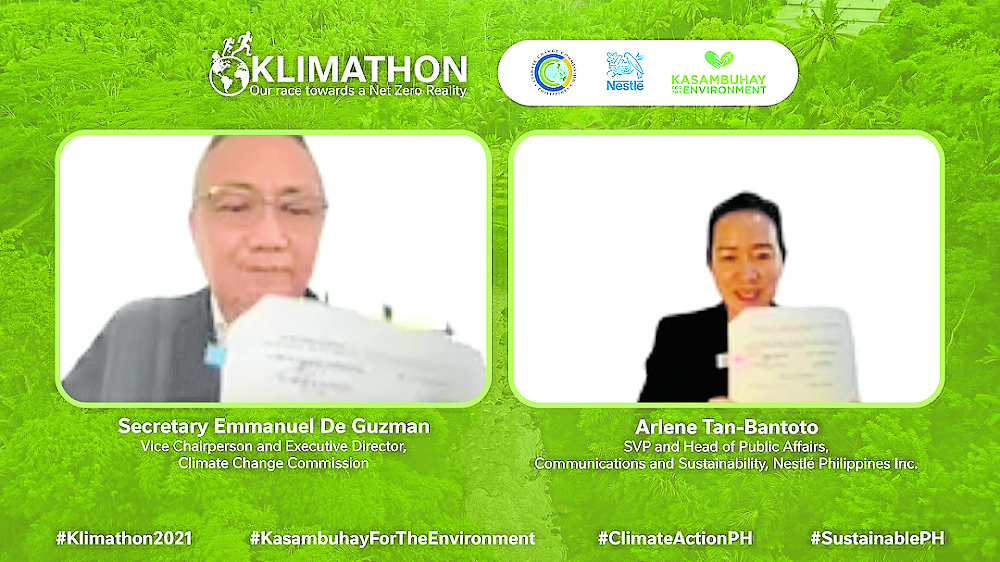 Sec. Emmanuel De Guzman, the commission's vice chairperson and executive director, said, "it is imperative to work with all sectors – including the youth – in taking a whole of government and whole of society approach in view of intergenerational responsibility. Their future will be paved by the actions we take today."
Marzouki agreed: "Half of the world's population consists of the youth. The Philippines today has the largest generation of young people in its history, comprising 28 percent of our population. Those of you who are young, who are here today, have a crucial and necessary role in tackling climate change."
Klimathon was open to teams of two to five members composed of Filipino senior high school or college students, between 16 and 24 years old by the Nov. 10 submission date.
Proposals will be judged on their relevance, innovativeness, community impact, and sustainability. Ten finalists will be chosen, who will undergo mentorship under a panel of technical experts from the government, environment groups, and Nestlé Philippines.
The winning team will receive P50,000, while the second and third placers will take home P30,000 and P20,000, respectively. —BY ARMIN P. ADINA