In recent years, the world woke up to the alarming reality that the earth is ailing, and that this problem has been brought about by our own hands. Unsustainable practices, including the mismanagement of plastic waste, has led to a global and local challenge for everyone.
The Philippines alone generates 2.7 million tons of plastic waste, 20 percent of which end up in the ocean, according to a 2021 World Bank study. Many attribute this to the country's "tingi-tingi" or "sachet economy," along with poor implementation of green legislation and insufficient compliance with local solid waste management systems. Environmental groups have also pointed out the role large corporations play in contributing to the waste problem.
The good news is that the private sector has stepped up their efforts to address the global plastic problem. While corporations have already developed and implemented corporate sustainable strategies for years, they are now expanding efforts with stakeholders for a more holistic approach.
In January 2020, the Philippine Alliance for Recycling and Materials Sustainability (PARMS) worked together with members of the Fast-Moving Consumer Goods (FMCG) sector to craft a strategy geared toward managing plastic and packaging waste, with the ultimate goal of reducing the country's waste footprint by 2030. The strategy, called the Zero Waste to Nature, Ambisyon 2030 (ZWTN 2030), is a commitment by PARMS member companies to "demonstrate that none of the industrial and post-consumer packaging wastes generated from its operations, sale of products, and usage of products end up in nature by 2030."
Project Rebound: Zero waste to nature
To spread this message and strategy further, PARMS partnered with Inquirer's Project Rebound webinar series last Jan. 26. The webinar featured the insights and plans from relevant industry representatives such as Secretary Ramon Lopez of the Department of Trade and Industry (DTI), Deputy Speaker Rep. Camille Villar of the House of Representatives and PARMS founding president Crispian Lao.
For Lopez, DTI's key role and strategy is to help promote and incentivize green industries. Giving fiscal incentives to these industries and prioritizing those whose work or programs involve sustainability will positively affect and address the entire supply chain, he said. "Down the road, what we want is a sustainable supply chain that will make use of green energy, green systems," Lopez said, noting that they are also seeing a demand in the market for suppliers that apply green technology, hence the importance of green financing support.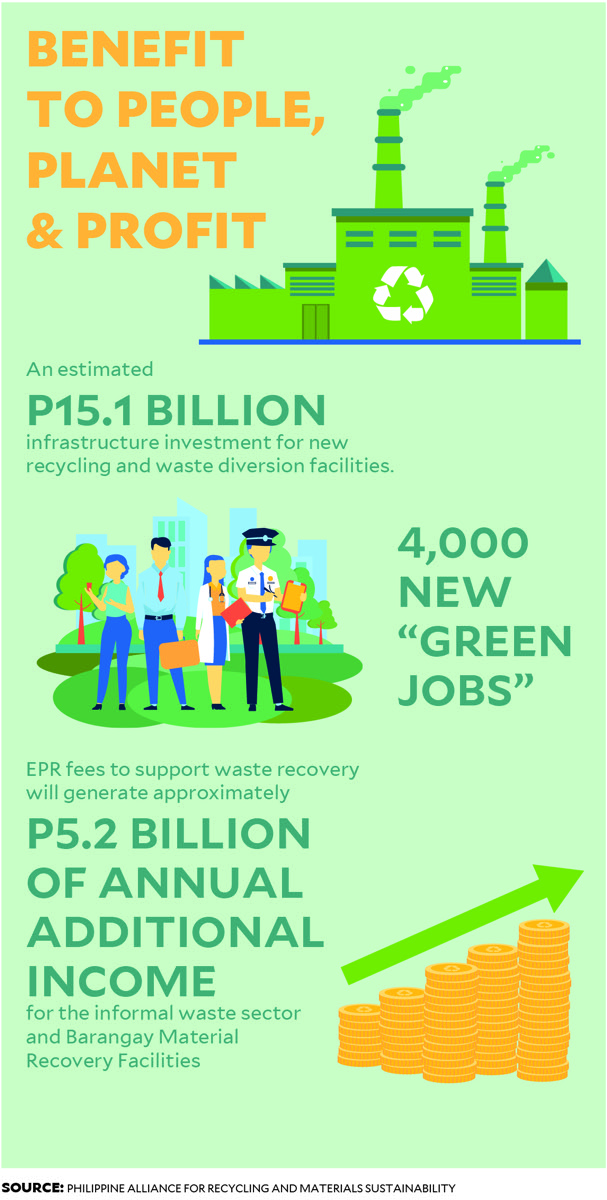 Expounding on the issue of FMCGs at one point being one of the causes of the plastic production problem and now working to be part of the solution, Lao noted that many companies have already been implementing programs and developing systems to address the plastic waste problem. PARMS' role, he said, was to provide the platform so that all stakeholders can share information with each other.
"The brand owners are competitors among themselves. But then here, we have a platform where we can share information," Lao said. "We try to translate global initiatives into local action and we want also to keep the economy within the Philippines. We don't want to push for sustainable packaging but [end up] importing everything and forget about the local industry… With the commitment of the [big] business owners who will lead and hand-hold the SMEs, I'm sure we will be able to find solutions." Micro, small and medium enterprises make up around 99 percent of business enterprises in the country.
From a legislative standpoint, Villar noted that policies and programs have already been put in place for FMCGs and large enterprises. But to get small and micro enterprises (SMEs) as well as consumers involved in the large-scale plan to reduce plastic use and waste first starts with awareness. By making them aware of the programs and sharing available green technologies with them, especially through local government units (LGUs) and communities, SMEs can take part in the program.
Villar also highlighted four key strategies to get more people involved: (1) educate on the situation, program and solution; (2) teach the technology; (3) provide incentives; and (4) encourage creativity (e.g. upcycling).
Understanding that some may feel intimidated by the idea of sustainability, believing it is a costly undertaking, Villar emphasized the need for a more wide-scale awareness. "Zero waste is not necessarily a huge and expensive endeavor. We just have to consider concerns of all parties and come up with solutions that can be implemented. Sometimes when we have policies, while they're comprehensive and good, we have to keep in mind what is doable for the majority," she said.
Lopez emphasized the importance of incentives. It is important, he noted, to make reducing plastic waste "economically rewarding for all participants in the value chain." With the recently concluded United Nations Climate Change Conference (COP26), it was also seen that there is growth in terms of clean financing, in which financial institutions are backing global net-zero targets.
Lao added that it is important for all stakeholders to also be careful about how we transition away from plastic. While the goal of the ZWTN 2030 commitment is to reduce plastic waste, it must not come at the cost of creating problems with other materials or alternatives. Working locally with circular models are also key to achieving this, he said.
Developing holistic, comprehensive programs toward zero waste
PARMS was incorporated in 2015, and involves various partners from multiple sectors and industries, included FMCGs, technology, academe and civil society.
In January 2020, before the COVID-19 pandemic hit the country, PARMS brought industry stakeholders together to declare their united commitment toward creating a zero waste road map. The road map, now known as ZWTN Ambisyon 2030, was completed and launched this 2022.
The first phase involves designing for circularity, in which the priority is for producers to shift to more recyclable and properly labelled packaging, and for alternative delivery systems to be developed in which waste can be reduced.
The second phase focuses on financing recovery and diversion. This phase focuses on creating a credit scheme EPR or extended producer responsibility—that is, a policy approach where producers are given responsibility for treatment and disposal of their postconsumer plastic packaging waste. The aim of having an EPR is to encourage better product design that benefits the environment, and at the same time, provide support for on-ground recovery models, public recycling, and materials management. This also involves LGUs and commercial establishments.
The last phase of the 2030 road map is to facilitate these investments into recycling and waste processing infrastructure through policies that promote a market-based, inclusive and competitive landscape across players in the waste sector.
Representatives from PARMS, partner FMCG companies and government  agencies  finalized the Zero Waste to Nature: Ambisyon 2030 road map on Jan 26 and 31, 2020, at the Las Pinas- Paranaque Wetland Park.
To come up with its zero waste road map and strategy, PARMS examined the current landscape. They looked at and categorized the diverse packaging materials currently in use. The categories were made based on the recycling and waste technologies that can be used to absorb the waste. PARMS defined a total of nine categories—six of which were considered flexible packaging, while three were defined as rigid packaging.
Another important element considered was the quantity being produced for each packaging category, along with how much end-of-life waste is generated. PARMS' analysis showed that 603,000 metric tons of plastic packaging waste was generated in 2019. Around half of which (52 percent) were recyclable rigid plastic, while 28 percent were high diversion value flexible plastic, and 20 percent low diversion value flexible plastic.
The final consideration was the baseline recovery and diversion rates of each plastic category.
The proposed ZWTN road map also sees benefits not just to nature, but to people and industry as well. According to PARMS, this program will create 4,000 new green jobs. An estimated P15.1-billion infrastructure investment in new recycling and waste diversion facilities is also expected, while EPR fees to support waste recovery are seen to generate around P5.2 billion additional income annually for the informal waste sector.
How we can all participate
The Project Rebound panelists all emphasized the importance of a holistic approach to solving the country's plastic waste problem. From big corporations leading the charge and smaller enterprises following by example and adopting new technology, to legislation laying down policy groundwork and incentivizing recycling and packaging innovations to enter the country, to execution from the national down to local and community levels, each sector can be seen to have a stake in the road to zero.
For Lopez, the best way to motivate more consumers and businesses to participate in road to zero initiatives is to make it economically rewarding for all participants across the value chain.
Lao, meanwhile, stressed that this is not just the effort of the corporations or policymakers, nor the public alone. "Individually, we might not be able to afford it, but collectively we can find the resources to pull it through," he said.
"The opportunity is there for inclusive growth among all sectors … It's not as simple as it looks, but it is doable. With the commitment of the industries, we believe we would be able to come up with a solution. But key is consumer discipline and participation and collaboration of all stakeholders across the value chain … to achieve our goal of zero waste to nature," Lao said.
Villar, meanwhile, stressed the role of awareness as a first step to getting more people involved, invested and receptive to sustainability and zero waste efforts.
"First and foremost there is a need for awareness. Not all the solutions are expensive. There are ways to do it that are not expensive, but we need to start the awareness early. I believe that we need to teach people about sustainability and the positive effects of zero waste programs not just when they're doing business, but even when they're young. We need to teach these kinds of practices or institutionalize them within our curriculum, or within our communities so that kids at a young age will become aware, and as they grow up it will become part of their lifestyle," Villar said.
Programs by the LGUs, she added, will further encourage the practice. LGUs can provide facilities and programs through which consumers and smaller enterprises can re-produce or recycle their products. In Las Piñas City of which Villar is the district representative, for example, plastics collected through their material management facilities are turned into school chairs.
"It really requires creativity on the part of everyone to create sustainable products and to take part in sustainable programs," Villar said.