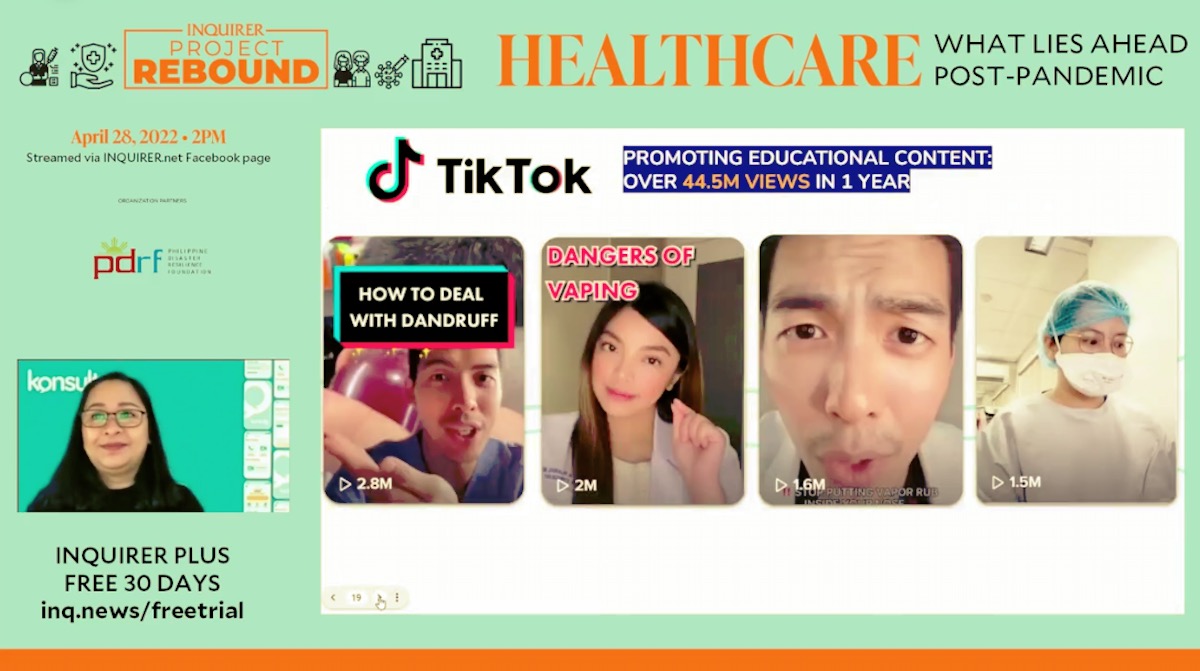 KonsultaMD is at the forefront of helping reshape the Philippine digital health landscape as it seeks to make healthcare more accessible and inclusive for many Filipinos.
As the largest and most visible telehealth company in the Philippines, KonsultaMD provides you with 24/7 virtual access to a team of licensed Filipino doctors without needing to leave the comfort and safety of your homes.
"We want to be at the forefront of the future of health tech," said KonsultaMD chief revenue officer Grace Anduiza in a recent Inquirer Project Rebound webinar entitled, Healthcare: What lies ahead postpandemic. "Right now, we are the most visible telehealth consumer brand in the market. Our aspiration is to spread our message across the different segments to get them to try and be comfortable in adopting a hybrid approach in managing their health needs—be it face to face or through virtual consultations."
Surging importance
The surging importance of telehealth, telecare or telemedicine became even more pronounced over the last two years at the height of the pandemic and the stringent lockdowns, when many are either unable to leave their homes or are wary of going to hospitals due to safety reasons.
According to Dr. Michael Caampued of the Philippine Society of Public Health Physicians, the COVID-19 pandemic further amplified the need for digital solutions, given that there had been earlier efforts to further drive digital health adoption in the country.
He explained that as early as 1998, UP Manila created and introduced the National Telehealth Center (NTHC) which provided ICT solutions such as telehealth, telemedicine, e-records, and e-referral systems, among others.
While there are clear gains, there remain numerous challenges that prevent many Filipinos from fully embracing virtual care, foremost of which is the digital divide due to limited digital infrastructure, poor access to high quality internet, and high costs, noted Dr. Caampued.
Bridging the gap
This is the reason why KonsultaMD is aggressively working on programs and measures that will allow it to reach more Filipinos, even those in the remote and far-flung areas.
"The Philippines has a lot to improve on when it comes to healthcare. To share some statistics: in certain remote areas or regions, the doctor to potential patient ratio is 1 is to 33,000—just imagine the very limited access to doctors. The aspirational ratio is actually 1 is to 1,000 so we're actively and really working hard on how we can bridge that gap by providing access that can link our doctors to more patients wherever they may be."

—Grace Anduiza, Chief Revenue Officer of Konsulta MD
To bring KonsultaMD and telemedicine into the daily lives of Filipinos, it partnered with more than 20 industries; 60 brands such as Lazada, Pocari Sweat, Huawei, Viber, Food Panda, Globe, 7-Eleven and Robinsons Supermarket; and some 600 key opinion leaders. Offline executions, co-branded events and promos further allowed KonsultaMD to be integrated with products and services in a variety of ways.
"It's better to collaborate than compete. What we can do is forge or start working on partnerships so we can serve the needs of the people better. Sometimes, it's no longer about the business—it's about making healthcare important, accessible and affordable for most people," Anduiza added.
Creating a reliable avenue
Besides partnerships, KonsultaMD has also created an avenue to make reliable health information more accessible via its social media platforms. On TikTok, for example, it saw more than 44 million views in just one year of creating educational content.
According to Anduiza, they promote educational content not just for the commercial value, but rather as a means to promote healthcare. These segments feature different topics hosted by doctors and specialists who talk about different health issues that some people are either too shy to ask or talk about—such as dandruff, dangers of vaping, mental health, among others.
"Why are these important? Because if people start talking about it, then others who are not comfortable or familiar with the use of telehealth platforms like KonsultaMD will at least give it a try," Anduiza concluded.
Indeed, if this is the future of healthcare, the Philippines is well on track to make it happen.
Try KonsultaMD now. Download the app for free via Google Play or the App Store.