One of the sectors greatly affected and influenced by the global COVID-19 crisis is without a doubt the financial industry. From the way we do transactions—shifting to virtual or digital processes and management because of the need to isolate and socially distance ourselves—down to the increased interest in digital assets like crypto, the pandemic has, according to Bangko Sentral ng Pilipinas (BSP) Deputy Governor Chuchi Fonacier, "served as an impetus for the widespread use of digital payments." The pandemic also became a "catalyst in bridging the divide between the unbanked and the formal financial sector," she said in her keynote speech during Inquirer Project Rebound's recently held webinar on the future of banking and investment. She emphasized digitalization as a priority of the BSP. Aside from allowing for better and more convenient access to financial products, she noted that this will also be an opportunity "to onboard financially excluded and underserved market segments onto the formal finance channels."
Mobile wallets have shown great promise over the pandemic, and continue to gain traction, as its features allow users to access and do various financial transactions beyond mere payments. These have become means for users to bills payment, credit application, and more. It has also been noted that the use of mobile wallets has penetrated communities: "From sari-sari stores to market vendors, tricycle drivers and even indigent Filipinos through the national government's social amelioration program," said Fonacier.
However, there are still more challenges the financial sector faces, especially in terms of inclusivity. Despite the spread of ease of digitalization within the financial sector, the BSP notes that 36 million or 47 percent of Filipino adults are still unbanked, and notably, of the 53 percent of adults who have savings, half of them prefer to keep their savings at home, rather than in banks. Current numbers also show that more than half of borrowers in the country source their loans through informal sources.

The need for inclusivity
The BSP recognizes that despite digitalization making access to financial services easier, there are other underlying issues that need to be addressed. Equitable access to electronic devices, internet connection, and improving financial and digital literacy need to be addressed, to ensure that society's most vulnerable not only are included, but are also safeguarded.
Vincent Rapisura, a development finance expert and co-founder and president of SEDPI Group of Social Enterprises, shed light on an overlooked sector when it comes to finance. These are, in fact, entities smaller than microenterprises, which they call nano-enterprises. Like microenterprises, these comprise of "mostly unregistered livelihood of low-income and self-employed individuals," Rapisura said. They are smaller than micro-enterprises as they have asset sizes of below P100,000 and income below P10,000.
A vast majority (82 percent) of these nano-enterprises are unbanked, according to Rapisura's research. "What we figured out is, from the traditional basic financial services such as passbook accounts, the nano-enterprises have already been lagging behind. When technology came in and we introduced digital finance as a mode in accessing financial services, all the more that the gap widened," Rapisura said.
The same conclusions were made by research conducted by the Rural Bankers Association of the Philippines (RBAP), according to BDO Network Bank senior assistant vice president Milott Requillo. RBAP, which comprises almost 388 rural banks and has almost 3,000 offices all over the country, serves mostly farmers, fisherfolk, and micro, small, (and nano) enterprises. "There has been this distrust of technology. Their behavior is, their money is just enough, so they want to have control of that money. Any unfulfilled transaction, any bad experience would really discourage them," Requillo said, of the vulnerable sector's readiness for financial digitalization.
This only changed drastically during the pandemic, when cash assistance from the government was to be released through the ATM. Within two months, they saw four million newly opened accounts, Requillo noted. "We also observed that they really go to the bank to withdraw their cash," Requillo said. "The financial transaction needs to be an end-to-end process. Their counterparts in the community, like the bakery, the sari-sari store, the public market is not yet also ready." Weak digital connections in more remote areas is also a factor why digital finance still cannot be fully accepted in the countryside. "Yung mobile data nila, we found out that that is still a luxury, medyo mahal pa rin, and they allocate that more for social media."
Rapisura added that the challenges with adoption in rural areas are brought on by smartphone affordability and internet connection. According to Rapisura's research, 38 percent find devices expensive, and then there is the cost of the internet connection. "There's also a challenge in getting internet connection in the rural areas. So although there's an opportunity for technology to bridge access to financial services, the infrastructure, which is the role of the government, should step up more," he said.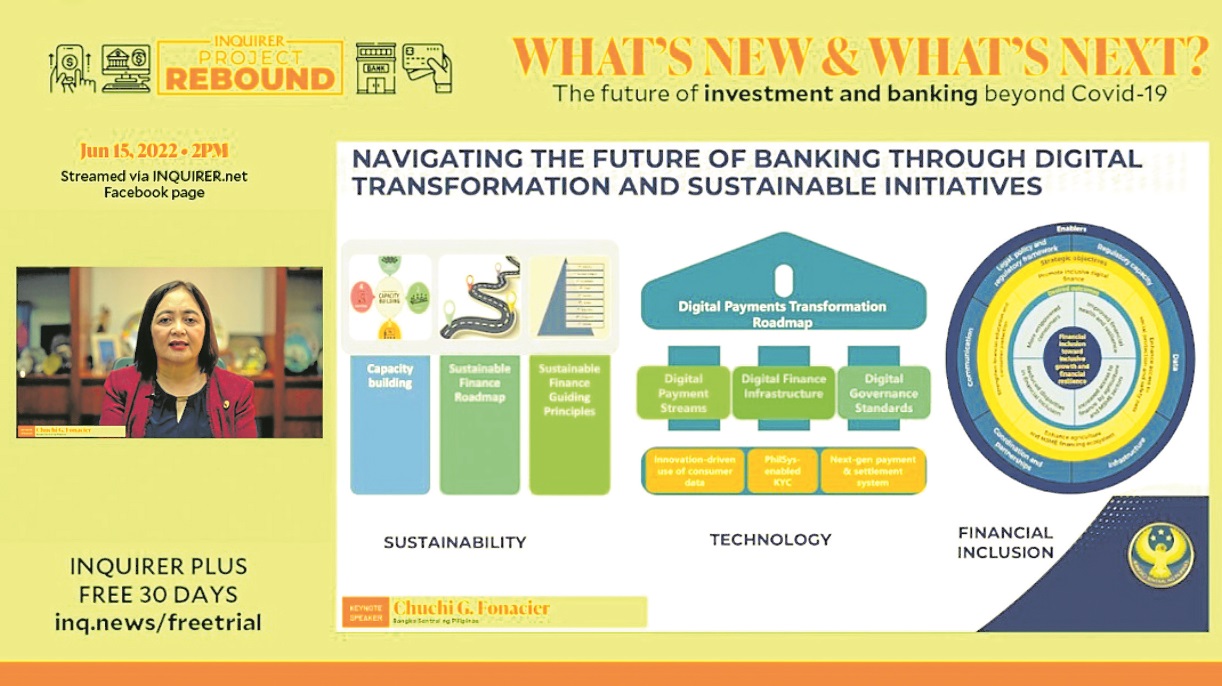 Tech and investing
On the other end of the financial spectrum, technology and digitalization have also opened the stock market to more people. Atty. Roel Refran, chief operating officer of the Philippine Stock Exchange Inc., noted that technology has "democratized access to capital" among investors.
"We've also seen that making it easier will give every investor or potential saver who would like to preserve or grow capital the opportunity to learn more about what securities are being issued now," he said. "Technology also feeds information. Hopefully di naman nakaka-overwhelm, but I think the lesson here is you have to know your source. It has to be a trusted source, otherwise you might be getting fake news or information that should be the basis for you to [make financial decisions] on."
Taking stock of post-pandemic "revenge" phenomena such as revenge tourism and revenge spending, where people are seen to rush into activities such as travel or shopping to make up for lost opportunities to do so amid lockdowns, Refran emphasized the need for revenge saving and revenge investing, as well. "We knew how bad it went the past two years. So I think we have to reframe our minds and technology will be our friend. Let's not make it our foe," he said.
Refran also noted that the majority of online investors today are below 30 years old, and there are also more women.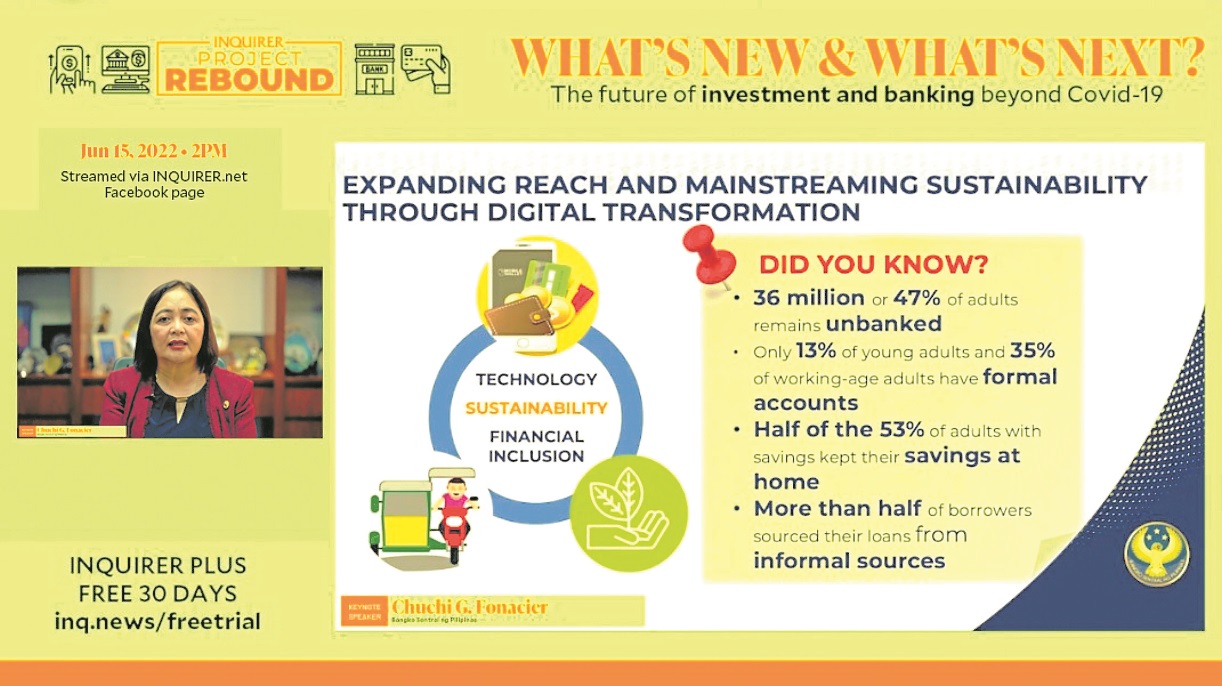 Future-proofing
While the financial sector generally has an optimistic outlook, especially with the BSP meeting its targets outlined in its digital transformation roadmap, as well as the country's sustainable finance road map, much work and innovation still need to be done to ensure greater inclusivity across the entire sector.
Aside from making sure that services and products can be more accessible for the more vulnerable social segments, inclusivity within the financial sector is important as well. "Cooperatives and rural banks are almost always outcast sa mga platforms natin," Rapisura noted. "We have to bridge that gap, otherwise, lalo lang magwa-widen."