Micro, small and medium enterprises (MSMEs) comprise 99.5 percent of business enterprises in the Philippines. The Department of Trade and Industry (DTI)'s 2020 MSME statistics show that the MSME sector accounted for more than 60 percent of jobs in the country. Further, the United Nations points to MSMEs as key to our country's inclusive recovery from COVID-19.
The push to digitalize and innovate MSMEs is one of the key priorities of DTI. We in DTI are working to accelerate the growth of MSMEs and enable them to scale up from micro to small, from small to medium and from medium to large, through innovation and digitalization.
We support innovation and digitalization to improve MSMEs' productivity growth and employment generation.
Innovation and digitalization will enable MSMEs to participate in global value chains, enhance their digital and entrepreneurial competencies and access management and workforce skills. They can also avail of diversified financing instruments, technology and innovation and marketing and other networks.
Thriving in the digital economy
We in DTI see that MSMEs will have to operate in an increasingly digital world characterized by rapid technological change. Based on Google, Bain&Co. and Temasek's economy Southeast Asia Report in 2021, there were 60 million new digital consumers in the Southeast Asian region since the outbreak of COVID-19. The region's digital economy is driven foremost by e-commerce.
However, in a 2020 baseline survey on the digitalization of MSMEs in the Philippines, DTI found that most MSMEs still need to build their capacities to digitalize their business operations. MSMEs pointed to top skills they need to thrive in an online business environment—finance, marketing, content management and the basics of e-commerce.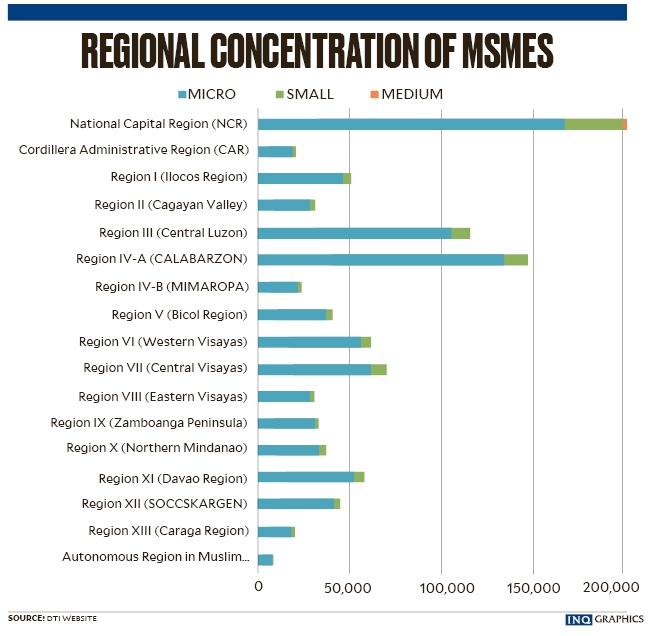 We have implemented a series of webinars called the "CTRL BIZ: Reboot Now." We help provide information to MSMEs straight from marketplace platforms, fintech (financial technology) and last-mile delivery platforms. We have partnered with Lazada, Shopee and Shopinas to encourage MSMEs to be on these e-commerce platforms, where they can take advantage of significant consumer traffic. We are also planning an E-Commerce Online Library that can serve as a repository of all resource materials for MSMEs and the general public.
The DTI recognizes the need to encourage more MSMEs to digitalize their operations and bring their businesses online. In this regard, DTI has been promoting e-commerce partnerships with the private sector. The DTI E-Commerce Office has partnered with Meta (Facebook), Google and Viber in providing online sellers with lessons on how to increase sales on their respective platforms. It has also worked with Microsoft, Globe, Google and Meta in giving MSMEs access to valuable sources on digitalization.
To further expand the use of e-commerce, DTI is working closely with the Department of Information and Communications Technology, or DICT, to develop an e-commerce platform that will be made available to MSMEs for free. On this platform, a small business can put up its online storefront quickly, make sales online, and get paid digitally. This online space will bring together various enterprises in a virtual shopping mall where consumers can find products of various categories depending on their needs. The e-commerce platform for MSMEs is expected to provide access to bigger markets, thereby increasing the sales and revenues of MSMEs.
In e-commerce platforms, MSMEs can also leverage digital marketing tools, adapting to new ways to reach existing and new customers whose behaviors are quick to change online. MSMEs can tap online advertisements, data analytics, and search engine optimization to engage more customers and promote goods and services in their virtual shopping malls.
Seamless ecosystem In addition, DTI will develop digital systems to link sari-sari stores, in particular, to manufacturers and automatically record enterprise data on sales and purchases. Data generated through the system can be used for credit scoring and cash flow-based financing. That is, the database built from the digital systems could eventually be the basis for lenders to evaluate the creditworthiness of small retailers. With this initiative, institutional lenders can assess small businesses once they have the digital record of transactions, the purchase of fresh stocks, and the record of sales to customers.
We know that for small businesses to adopt digitalization, we will have to go beyond just providing the information and helping them to establish their needs.
DTI is counting on private sector support in this area. DTI will accelerate MSME innovation and digital transformation by linking MSMEs with startups, especially those that could help address their digital challenges, connecting MSMEs with large domestic and multinational enterprises, and promoting inter-firm and academe collaboration. With conglomerates participating in a big brother-small brother 4.0 setup for MSMEs' digitalization, for example, big businesses can accelerate the digital upskilling of MSMEs.
Driving innovation In addition to digitalization and digital transformation, DTI will collaborate with the Department of Science and Technology, or DOST, for science, technology, and innovation to be accessible to MSMEs. MSMEs must strive to become innovation-driven enterprises to reach and engage their markets.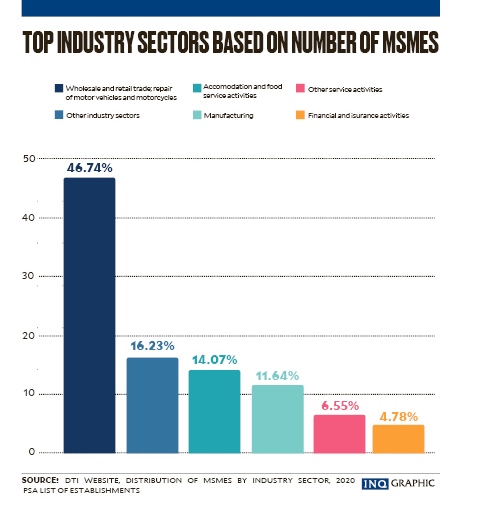 Innovation does not mean only the creation of new products. It could mean novel and responsive approaches to business organizations, marketing strategy, or product distribution. Innovation would be vital because it allows an MSME to differentiate itself from market competitors. Science, technology, and innovation can also enable MSMEs to make products more affordable to consumers and more competitive in the domestic and global markets.
Intensifying support for the adoption of digitalization, technology, and automation is expected to lead to productivity increases and eventually, more innovation and more efficient, productive and resilient production. In support of such expansion and upgrading of the global value chain, DTI will establish common service facilities and support for efficient storage and logistics, such as handling and cold storage services. Moreover, DTI will enhance and upgrade MSME programs like One Town One Product by improving access to technology and innovation, as well as finance and skilled workers. In fact, we are planning to expand OTOP to be on a regional basis so we will have a greater scope.
We call on government and the private sector partners to develop the needed infrastructure supportive of digitalization and innovation. MSMEs can benefit from secure nationwide networks of fixed and wireless broadband. With stable internet access, MSMEs can boost their productivity, reduce costs, and reach more customers.
I hope that more of our MSMEs will be open to and more involved in digital transformation and innovation. —BY ALFREDO E. PASCUAL
These are excerpts from a speech delivered by Trade Secretary Alfredo E. Pascual during the Inquirer Project Rebound webinar on MSMEs on July 13, 2022.