Despite the COVID-19 pandemic that wreaked havoc on the economy and the lives of millions, Filipino millennials and Gen Zs remain optimistic that the world will be able to conquer the crisis and emerge victorious, according to a recent study by Deloitte.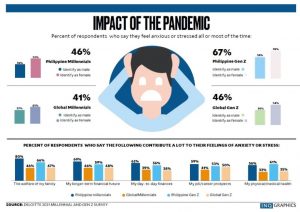 According to Deloitte's "2021 Global Millennial and Gen Z Survey," 85 percent of Filipino millennials, or those born between Jan. 1983 and Dec. 1994, and 79 percent of Gen Zs, born between Jan. 1995 and Dec. 2003, said they expect to see a more altruistic and compassionate postpandemic society.
The survey gathered the insights of 14,655 millennials and 8,273 Gen Zs globally from Jan. 8 to Feb 18 this year through online and self-complete-style interviews. A total of 300 millennials and 100 Gen Zs from the Philippines participated in the study.
However, 46 percent of Filipino millennials admit to still feeling anxious and stressed. This is nevertheless an improvement over the 57 percent mark in 2020. Almost 70 percent of Filipino Gen Zs, meanwhile, said they were also feeling stressed, with about eight out of 10 women saying that they feel anxious most of the time.
"This pandemic has had a particularly adverse impact on women, who have had to disproportionately take on additional household and caregiving responsibilities as we all sheltered in place,"

-Eric Landicho, Deloitte Philippines managing partner and CEO.
He added that more than 64 percent of the Gen Z Filipino participants were actively enrolled in a university or high school during the course of the survey so the shift to remote learning might have led to the feelings of distress.
The millennials and Gen Zs from the Philippines said their families' welfare was the main source of their anxiety. The Gen Zs indicated their physical and mental health as their next top stressor while millennials said their longer-term financial future also added to their stress and anxiousness.
For their greatest personal concerns, the Filipino Gen Zs cited corruption within business or politics as the most pressing issue, one that millennials and Gen Zs worldwide did not consider in their top three concerns. On the other hand, for the Filipino millennials, the most concerning matters are health care, disease prevention and unemployment.
In terms of compliance to the safety health measures imposed, 91 percent, or nine out of every 10 Filipino Gen Zs said they had "very" or "fairly" followed the government protocols and guidelines, as compared to the global tally that fared only 69 percent.
Nine out of 10 millennials and Gen Zs said they wore face masks regularly when going out in public places while nearly seven out of 10 millennials and Gen Zs said they opted to avoid public transportation and crowded areas.
"Sustaining this behavior will be critical to the health of these young Filipinos as local vaccination programs prioritize more senior citizens," the report said.
The survey participants were also asked to share their perspectives on social inequalities and injustices that had a noticeable impact during the global crisis. Forty percent, or four out of ten Gen Zs from the Philippines noted that they often feel discriminated against online by their own government and other businesses due to their backgrounds.
The most commonly cited causes of discrimination are people's ethnicity and race, along with other factors that include one's socioeconomic status, physical and mental disabilities and sexual orientation, gender identity and expression.
Three out of every five Filipino millennials and Gen Zs said that systemic racism is widespread in the media, political system, society and police force.
To recall, it was also during the onset of the pandemic when George Floyd, a 46-year-old Black man, was murdered by a police officer who pinned him down until he went limp and died. The incident sparked a global outrage and movements to protest against racial injustice.
While both Filipino millennials and Gen Zs indicated that the workplace is a setting where they are least likely to encounter discrimination, more than half of the respondents believe that racism is still widespread in workplaces, too.
"These results reflect the tumultuous world these two generational cohorts are growing up in and perhaps also point to their distrust of established institutions. As we have seen during this pandemic, though, this hasn't stopped them from taking action. If anything, it may have even fuelled their sense of activism as they mobilized to address the problems they were seeing in their communities, such as growing hunger and unequal access to education," Landicho said.
On future prospects of the country's economy, 24 percent of Filipino millennials said they were expecting that the overall economic situation was bound to worsen in the coming months, while 33 percent of the Gen Zs said they were also anticipating the similar decline.
Despite these, 90 percent, or nine out of 10, millennials and Gen Zs reported that the crisis has encouraged them to take the initiative of enhancing their personal lives, with eight out of 10 saying that they have taken measures to have a positive impact in their communities.
Most recently in April, 26-year-old Patricia Non has inspired a notable initiative to address food security that gave rise to around 6,700 community pantries across the country.
"Our years of research have shown us that millennials and Gen Zs are generally values-driven, action-oriented generations, so even in the face of great disruptions and challenges, they are undeterred in their efforts to make positive changes in their communities," Landicho said. —BY JANE BAUTISTA