SM Investments Corporation's strong retail-led growth mirrors growing consumer spending despite lingering inflation risks.
This growth in spending activity is sparking optimism in the overall economic outlook. Asian Development Bank, in a recent report, raised economic expectations, underpinned by rebounds in investment and household consumption.
"Despite rising inflation, we are encouraged to see shoppers' robust spending in the first half. This is a bright spot in the Philippines and in the region amid global headwinds"

—Frederic C. DyBuncio, SM Investments President and Chief Executive Officer.
Growth in retail 
Consumers are back to safe shopping in SM stores which drove up retail growth. Further supporting this growth are SM Retail's efficient operations and strategic expansion.
SM Retail, Inc., the company which has interests in department stores, groceries and specialty stores, reported revenues of PHP163.7 billion, higher by 18%. This revenue growth was driven by higher foot traffic in retail stores and malls as well as renewed vigor in shopping for fashion-related items in the department stores. The larger food retail formats also benefitted from higher foot traffic in malls.
As a result of these, retail net income was higher by 91% to PHP7.0 billion, benefitting from cost reductions and efficiencies across all of SM's retail formats.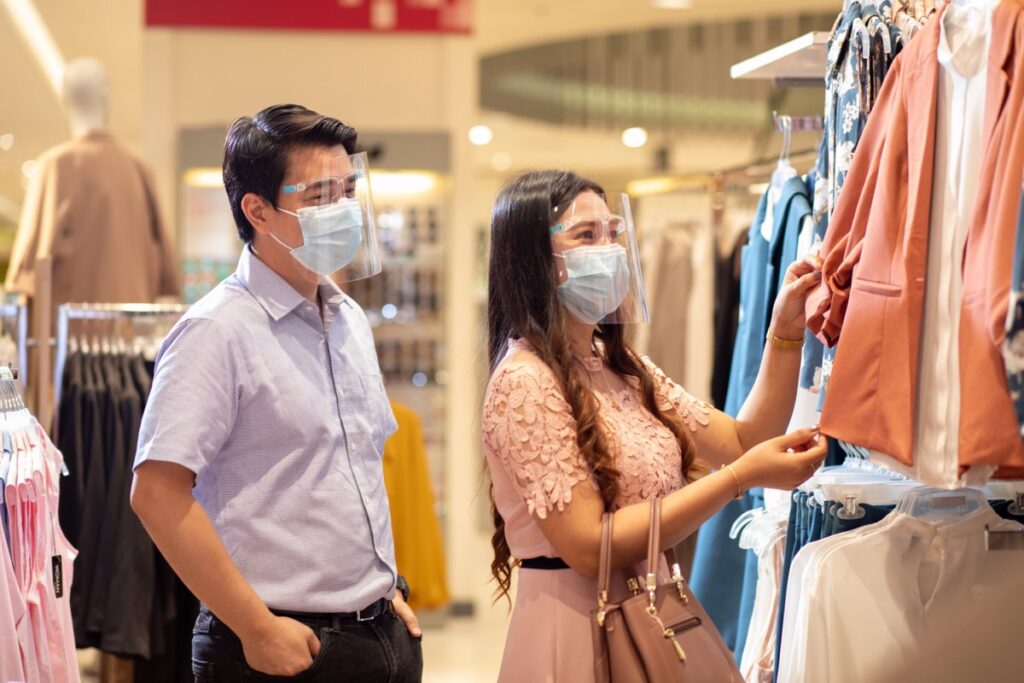 "This consumer-driven momentum brings more optimism moving forward as we keep innovating on our retail offerings to ensure an excellent shopping experience for the Filipino consumer," Mr. DyBuncio said.
SM initiatives to help MSMEs
Increasing economic activity and growing business resilience and growth also help provide vital support to thousands of micro, small and medium enterprises (MSMEs) especially during the pandemic until the present amidst rising food and fuel prices. 
SM, which traces its roots to a small enterprise, has been supporting MSMEs across its businesses through various initiatives through the years.
Primarily, SM serves as a community, marketplace and partner of its suppliers.  It is home to many retail brands and partners.  Each supply chain partner makes SM what it is today, through strong business relationships and long-standing friendships. SM understands the many challenges small enterprises face. It plays the big brother role to its MSME partners, helping them navigate mainstream retailing.
SM stores become their platform to showcase their products, master their entrepreneurial skills and grow their businesses. SM likewise provides holistic support through marketing advice, financial access and promotion and advertising support to help MSMEs prosper and grow.
With SM's strong recovery and higher foot traffic in its stores and malls, MSMEs too participate in the growth. 
Integral to this recovery were the rental concessions granted to SM's tenant partners during the pandemic. Such concessions allowed MSMEs to continue operations and to sustain employment opportunities as an indispensable factor to business activity and the lifeblood of the local economy. With over 90,000 micro, small, and medium enterprises (MSMEs) partners, SM ensures support by helping them recover.   
SM too joins their journey to deliver a shared goal: to meet the ever-changing needs and aspirations of its customers.
As customers showed keen interest in eco-friendly products, the SM Store also launched the SM Green Finds offering more sustainable products to Filipinos to promote resourcefully made offerings and in support of local community livelihood while reducing the impact on the environment.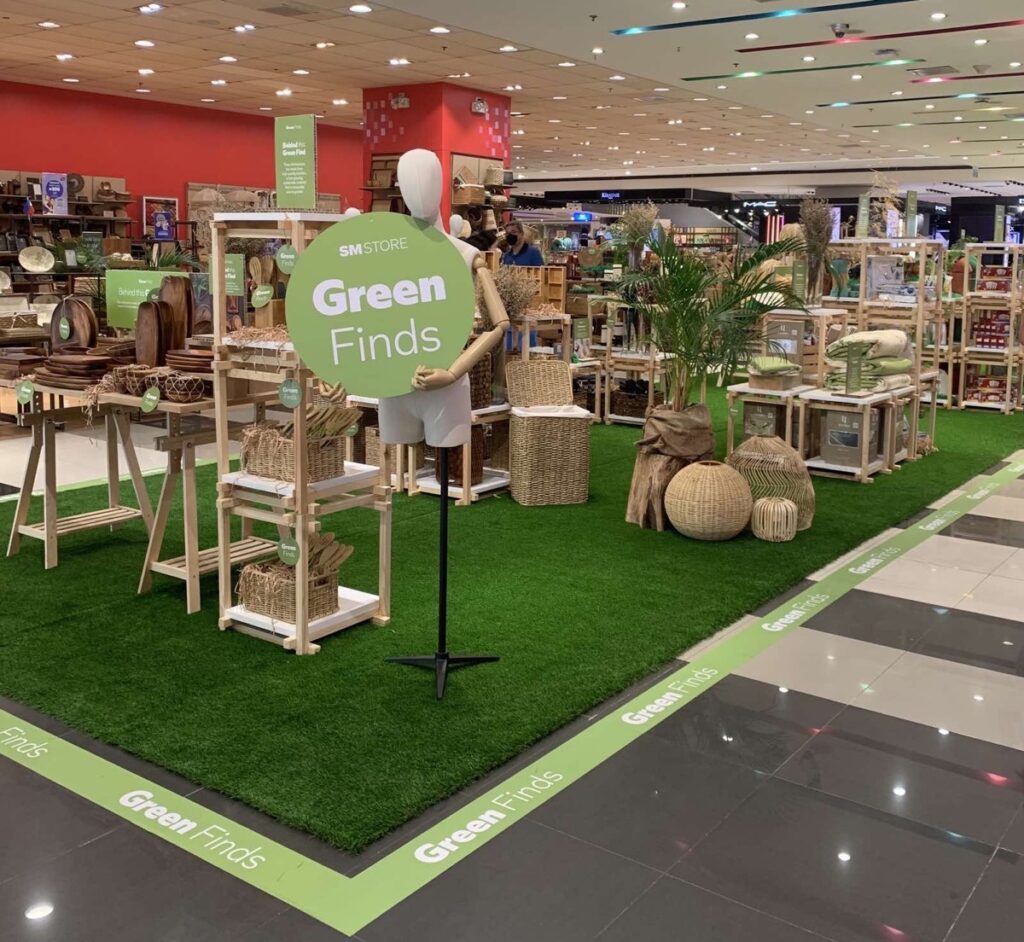 With an opportunity to bring a greener experience to both customers and suppliers, the SM Green Finds offers a wide array of sustainable options such as kitchenware sourced from acacia wood, SM Home Kea baskets made of buri and seagrass, and LED lights that can save energy consumption by up to 85 percent, among many others. 
Kultura, for its part, started as the Philippines Craft Section at SM Department Store (now known as The SM STORE) and has evolved into a full-fledged brand championing local MSMEs. Beyond providing a platform to MSMEs SM and Kultura equip their MSME suppliers by helping them with their product development, pricing, merchandising and marketing. Kultura also partners with the DTI to help them get the necessary permits to establish either a cooperative or a corporation. 
SM Supermalls, which operate SM's malls around the country, tapped the small online business owners through the SM Start-Up Market program in high-traffic malls. This helped budding online entrepreneurs to put up kiosks at SM without the burden of costly rental fees and construction costs. 


SM Supermalls bridges shoppers in the mall to MSMEs and provides them a venue to showcase their products through the SM Start Up Market.
SM helped bring local farmers closer to SM customers and allowed restaurateurs to access fresh vegetables through the Farmers' Produce Markets, a joint project of SM Supermalls, the Department of Agriculture and Resto PH, an association of restaurants in the Philippines This was one of the many ways SM helped MSMEs, farmers and restaurant owners and their employees amid the pandemic disruptions to the supply chain that left farmers and local food establishments with very limited options where to sell their products. 
Through one of its banks, BDO Network Bank, SM provided MSMEs and the beneficiaries of Overseas Filipinos with businesses vital access to additional funds. The MSME Kabuhayan Loan is designed to assist small business owners in need of extra funding to increase their inventory of stocks, purchase business equipment and assets, or pursue expansion plans. 
With the pandemic displacing the livelihood of many Filipinos, a number of them have become social entrepreneurs selling products online. 2GO Express, which is part of SM's logistics business, provided them crucial support through solutions that connect sellers and buyers through pickup and delivery services across the Philippines. The company also partnered with FedEx Express, allowing Filipinos to ship their products to various international locations.
Through Airspeed, its other logistics company, SM provided affordable and dependable pick-up and delivery service—a vital support component for the MSME sector. PinaSpeed offered online pick-up and delivery service to micro-businesses in NCR, Rizal, and Cavite and soon in other areas at very reasonable rates.   
Through these initiatives, SM strives to enable its MSME partners to take part in its growth.