"Boy, was that a wake up call."
Teddy Monroy, country representative for United Nations Industrial Development Organization, said this during the Inquirer Project Rebound's webinar on ensuring the resiliency and sustainability of micro, small and medium enterprises (MSMEs) with their recovery. This was in reference to the COVID-19 crisis, which truly exposed how MSMEs, despite being "the lifeblood of the economy," is the sector "most vulnerable to both environmental and economic shocks."
The importance of MSMEs
MSMEs are local businesses involved with either industry, agri-business, or services. As the name implies, these are smaller-scale businesses with under 200 employees and under P100 million asset sizes.
"For us, small businesses [are] the focus. They're the beating heart of the economy," said Rene Meily, president of the Philippine Disaster Resilience Foundation (PDRF).
MSMEs have created a "total of 5,380,815 jobs or 62.66 [percent] of the country's total employment" and "25 [percent] of the country's total exports revenue," according to the Department of Trade and Industry's (DTI) 2020 MSME statistics brief.
"We realize small businesses are important to everybody and we realize that if we can help them, we can make a better country," Meily said.
However, because of their size, MSMEs face a unique challenge in terms of growth. It's harder for them to gain the means to expand their businesses or even to remain in business.
"A lot of MSMEs, they want to survive, they want to grow, but the capital is limited. They have limited financial resources. Sometimes trying to access financial support from commercial groups, from development banks, [can be] kind of very tricky for them," noted Monroy.
"Most MSMEs lack the capacity to prepare project proposals that would be approved by the banks. They need help with that. And some banks do require collateral so sometimes these MSMEs don't have the collateral to put in place," he added. "The micro enterprises are better off because there are opportunities or financing mechanisms for them but mostly the small and medium size are having trouble."
With the economy slowly re-opening and gaining new ground, MSMEs have also started focusin on new priorities.
"An immense value has to be accorded now to measures that will protect our health and ensure that economic and social activities are not further disrupted. We expect that health and safety protocols will increasingly be instituted in work settings, while the evolving business landscape also sees the fast expanding digital space that can at the same time boost productivity, competitiveness, and resilience to future shocks."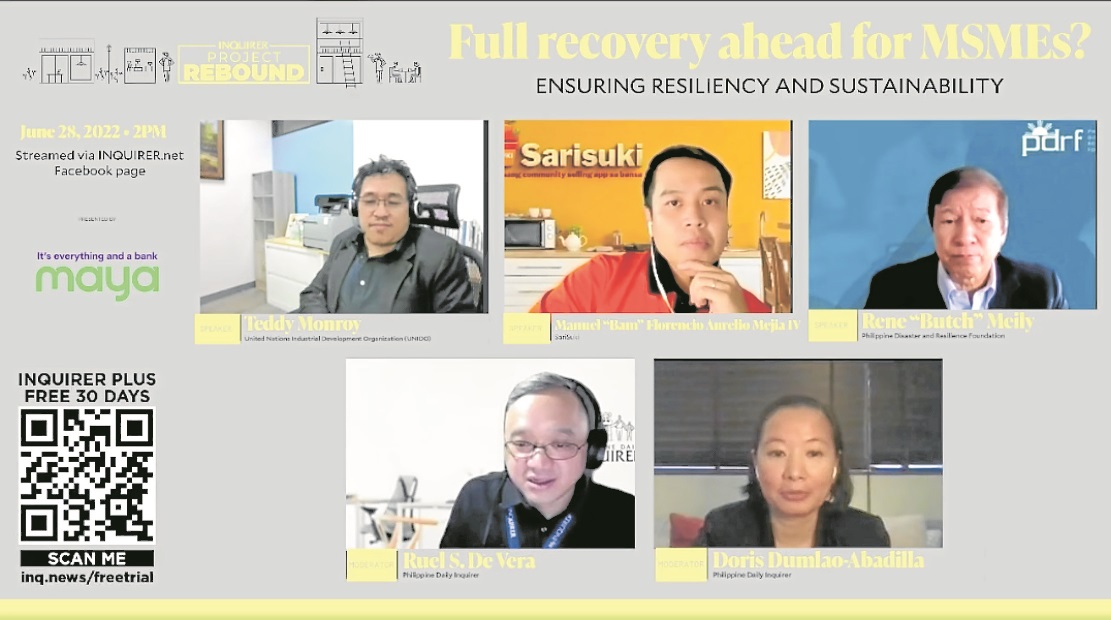 The two struggles
Whether due to their size or their inherent connection to local industry, MSMEs are among the most affected by meteoric changes in the nation.
Business owners didn't just have to struggle with the danger of the COVID-19 virus itself as they try to keep their employees safe. They also had to struggle with the restrictions meant to minimize the threat of the virus, such as the imposition of lockdowns as well as health and safety regulations.
"The first few years of the pandemic [were] shocking to most of us… My role towards helping MSMEs was of course affected because when businesses [are] closed due to lockdowns, you can't do much," said Joey Concepcion, founder of Go Negosyo, a non-profit organization that addresses job-related issues such as unemployment by helping
and mentoring MSMEs.
"That whole first year of the pandemic was really a very stressful year for us," he added.
The same containment measures meant to save lives were also endangering the lifeblood of small businesses.
"We have to protect lives and thus health took primacy over economy, especially at the start," admitted former DTI secretary Ramon Lopez in his keynote speech.
But these enterprises soldiered on.
"We saw MSMEs struggle with issues around supply chain management, availability of human resources, and cash flow issues. In attempts to stay afloat, MSMEs moved heaven and earth to implement the required health protocols, reduced operating hours, facilitated alternative work arrangements for employees, increased utilization of digital platforms, identified alternate suppliers, diversified operations as best possible, tapped additional financial resources to address challenges in their cash
flow. You name it, and they did it," said Monroy. However, despite their best efforts, many were not able to make it.
But the pandemic is not the only existential threat that MSMEs face.
"We're one of the most disaster prone countries in the world, unfortunately, whether it's a typhoon, volcano eruption, or earthquake," Meily said.
Since the country is situated on the Pacific Ring of Fire and typhoon belt, the Philippines is susceptible to natural disasters. In 2021 alone, there were 15 typhoons that hit the country. And all these are exacerbated by climate change.
"Climate change is expected to lead to more intense typhoons, higher sea levels, and storm surges. Storm surges are projected to affect about 14 percent of the total population and 42 percent of coastal populations," reported the World Bank in 2013/ These predictions have since become a reality.
"[Speaking of] the effects of climate change, the Philippines is one of the highest ranked in terms of threat," Meily said.
And small business owners have to face this head on. "They're the ones getting hit. Whether it's rising flood waters, whether it's storm surges, all of these things affect them and [can] knock them back into poverty. There's really so much at stake," he stressed.
Because of these threats, it's become even more of an imperative to emphasize the importance of resiliency and sustainability.
Weathering disasters and going green
To weather storms (and earthquakes, and eruptions, and pandemics), local enterprises need to be prepared for natural disasters and—as the COVID-19 pandemic has taught us—medical crises. That's the only way they can ensure their longevity even in the midst of catastrophe.
Thankfully, the government offers tools for that.
"We planned a business continuity planning national road map to help business owners prepare for disasters. We launched two new MSME resilience tools: the business continuity capability assessment tool and the disaster risk assessment preparedness tools. These tools are designed to help small business owners evaluate their business continuity plans should something happen, [like] how prepared are they. It also assesses their readiness for emergencies. [It's] very important and also free," Meily said.
Aside from that, the government also offers financial and training assistance for MSMEs. Lopez noted that the agency "nurtured [MSMEs] through training, mentoring and assistance programs in financing digitalization, product development, [and] market access among others."
This training is important because it lays down a guide work for MSMEs to further develop their enterprise and learn how to successfully run a business.
"Becoming an entrepreneur is not natural, so there's a lot of teaching that needs to be done. There's a lot of nurturing that needs to be done," said Manuel "Bam" Mejia, chief commercial officer of SariSuki, a startup that allows people to become their own communities' local grocery ("Our app tries to be an accelerator for anyone who wants to do business. We try to teach them how to sell").
Government financial assistance is also highly needed because aside from letting them be prepared for catastrophes, it keeps small business owners from falling into predatory financial schemes like 5-6 loans.
However, many MSME owners do not know that these tools are in place.
"There's some challenge in making sure people understand the programs that the government [has] at the moment. Sometimes, when we speak with MSMEs, they say that 'We're not aware that the [government] has these programs,'" Monroy said.
"Reach will be important, efficiency as well as how [the government] delivers those services. As much as there's already a long list of services available, they are only as good as how efficient these services are being delivered. There's still some room to work on that," he added.
But businesses shouldn't just be prepared for disasters; they should also be proactive in putting sustainable measures in practice.
"It's no longer a matter of if there's interest from the MSMEs to go green. Look at climate action as an important element in the operations. They really can't afford not to for many reasons. First is sustainability and making sure that we do not compound anymore the problems that we have already caused with our disregard of the environment. We've seen that," Monroy said.
He noted that it's not just good for the environment to go sustainable—it's good for businesses as well, as "going green" ensures efficiency in the use of raw materials and eliminates wastes.
"These all have dollar values. it all makes good business sense," he further said.
However, it is true that many small businesses do not prioritize that yet.
"Truthfully, if you're [just] surviving, the environment would be the last thing you're going to think about. That's a reality for most of the MSMEs," Mejia said. This is why it's important that both the private sector and the government help out MSMEs in putting forth these sustainable business practices.
Hopefully, with their assistance, MSMEs can, as Monroy said, "forge courageously ahead and recover ground that was lost during the past two years."
There's a case for hope. Monroy noted that despite the fact that many MSMEs were forced to close, this was offset by the number of MSMEs that opened. Lopez also reiterated the startlingly rise of MSMEs, noting that "the growth of MSMEs has since ballooned from 1.37 million registered and renewed businesses in 2017 to 2.3 million in 2022 even during the pandemic."