What do micro, small and medium-sized enterprise (MSME) lifelines and the trajectory that the Department of Finance (DOF) wants to take have in common? The guests of the third and final leg of Inquirer Project Rebound's MSMEs webinar series unanimously agree that both are anchored in financial technology (fintech).
For MSMEs, the steady increase of economic activity across the country promises recovery from lockdown losses. However, businesses also need to adapt to a change in consumer behavior brought on by the pandemic. Given the increasing preference for digital transactions, MSMEs must now utilize fintech in order to thrive.
Riding the fintech wave is the gateway to participating in the new global economy.
Keynote speaker Finance Secretary Benjamin Diokno is fully cognizant of this as he pursues a sustainable, inclusive, digitally-enabled economic expansion.
"Stronger consumer preference for digital payments will certainly help MSMEs tap into new markets, expand their distribution channels, and streamline their transaction systems," he said.
One of Diokno's development goals is reaching upper-middle-income economy status by the end of the Marcos administration in 2028. The eight-point economic agenda he presented aims to accomplish this, in part, by bringing us closer to achieving e-governance and expanding access to financial products and services.
"Digitalization paved a way for greater financial inclusion among our people. Increased participation in the formal financial system is critical in deepening our financial and capital markets. Growing consumer confidence and extending products and services to previously underserved markets, and therefore building a more robust digital finance infrastructure, are critical for broad-based economic growth," Diokno said.
In line with this, the Bangko Sentral ng Pilipinas (BSP) is targeting to digitize half of all retail payments and onboard 70 percent of Filipino adults to the formal financial system by 2023. How can MSMEs prepare for this radical shift? Building credit by going digital
Digital finance and digital privacy literacy continue to be a challenge for a lot of Filipinos. Alongside the need for more digital infrastructure, shared and proactive learning in navigating fintech is what we need. But how do MSMEs use fintech to their advantage?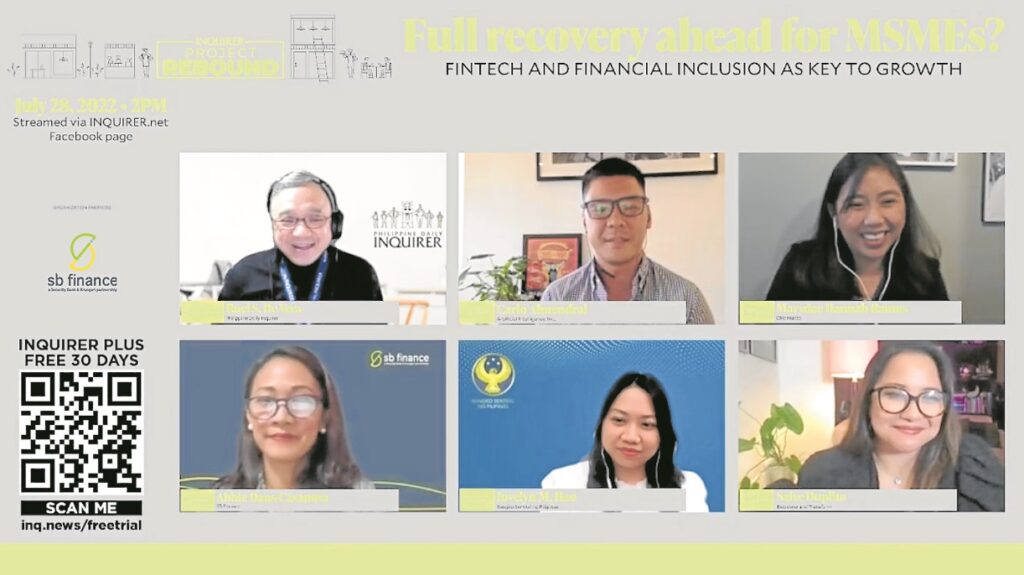 Abbie Dans-Casanova, president and CEO of SB Finance, noted that access to capital is very limited for micro entrepreneurs with high-risk cost and information asymmetry as the main reasons behind lenders' hesitance to provide support. "Actually, in the past and maybe until now, 60 percent of bankruptcies for small businesses are due to health issues. COVID-19 compounded it very much. Individuals and MSMEs have the same behavior. When there is a disruption of cash flow and continuing expenses, there is income loss. And then, you default on the loans," acknowledges Dans-Casanova. If the lifeblood of cash flow is access to financial capital, access to credit facilities with the help of fintech can save a business.
Dans-Casanova advises business owners to build a credit-worthy footprint as a verifiable basis for applying for loans. Start by registering the business and opening a separate business bank account. Then, establish a digital presence through digital payment methods, e-commerce platforms and e-wallets.
Apart from approaching private lenders, Dans-Casanova suggests looking into government finance initiatives like the Department of Trade and Industry's Pondo sa Pagbabago at Pag-asenso, Barangay Micro Business Enterprise, Small Business Corp. and Credit Surety Fund.
Innovation and limitations for MSMEs
Marydae Hannah Ramos, founder and owner of Chizmozza, is one of many looking forward to DOF's streamlining and digitalization efforts. She recounts how much harder it was to set up her business in 2016 because of the lack of access to business capital and free financial seminars. However, Ramos continues to struggle with complicated tax compliance procedures and the repetitive nature of permit processing for starting and closing a business.
BSP's data showed a decrease in the loans provided to MSMEs during the start of the pandemic. But Jovelyn Hao, BSP's FinTech Innovation and Policy Research Group acting head, does assure that they have high hopes for an increase in MSME credit allocation in banks, financing companies, cooperatives and other lending institutions. BSP is also hoping to see the uptick as they prepare to launch more streamlined business loan application requirements for MSMEs in the third quarter of 2022.
Dans-Casanova shares that we can also anticipate the open banking initiative that will unlock data with the owner's consent so that verifiably credible third parties will be able to connect to it and offer better financial services. With alternative lenders becoming game changers, she mentions that they're partnering with telcos to create alternative credit scores to leverage that data for formal credit applications.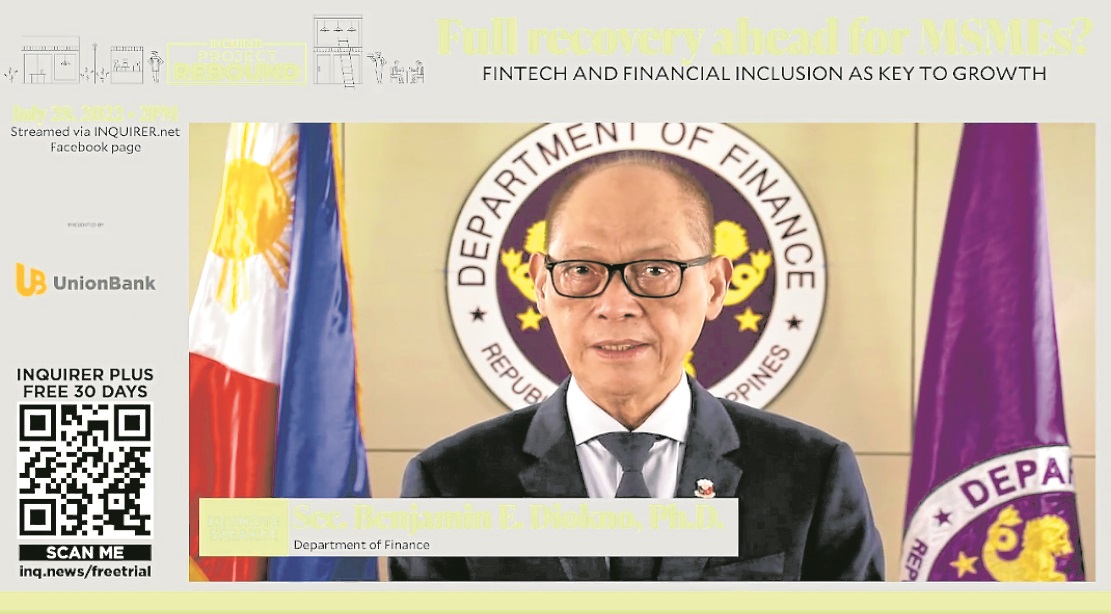 When it comes to improving operations with the help of fintech, Artificial Intelligence Inc. CEO Carlo Almendral recommends several digital tools to grow a small business. Online business software marketplace Capterra is a great resource for free software alternatives. Copy.ai generates copy for your business. Midjourney creates art which you can use for logos and product photos. With Cococart, you can create an online store immediately on your phone. Shipmates compares local courier rates for you. LetsPay is a handy payment integration app. Bubble is a good no-code web app builder. And Google Maps and Canva are still highly underused.
At the end of the day though, small business sustainability is about having a fixed personal and business financing system. Empower and Transform founder and president Salve Duplito advises dedicating 20 percent of your net income for employee incentives, another 20 percent for your investors and the remaining 60 percent should be reinvested in the business. She also reminds business owners that having a set salary is a must.
Turning to capital markets for investment
The Securities and Exchange Commission is part of the effort to extend access to risk protection and social safety nets by enhancing the MSME financing ecosystem. Director Vicente Graciano Felizmenio, Jr. of SEC's Markets and Securities Regulation Department shares that they're looking at the capital market as an answer to MSME funding woes.
The Office for the Advancement of Strategic Investments in SMEs (Oasis) has been established to enact programs to help small and medium-sized enterprises raise capital by offering the public feasible investment channels. Crowdfunding platforms SeedIn, Eastern Securities Development Corp. and Investree are among its new intermediaries.
Oasis platforms show promise as they already had around 650 registered issuers and around 33,400 registered investors by the end of 2021. If this is the future of financial inclusion, it's certainly bright.