Two years ago, the COVID-19 pandemic came to the fore, drastically disrupting all sectors of Philippine society. But even before the pandemic, the country has already been experiencing two ongoing crises: hunger and malnutrition.
It may seem like a good sign that the Philippines was not identified as among the countries with "the likelihood of further deterioration in acute food insecurity," based on the Hunger Hot spots Outlook for June to September 2022 of the World Food Programme and Food and Agriculture Organization (FAO). This, however, does not necessarily mean the absence of food insecurity in the country.
Data from the Department of Science and Technology-Food and Nutrition Research Institute showed that the number of food-insecure Filipino households grew to 64.1 percent in 2019 from 53.9 percent in 2018. Filipinos who could not afford a healthy diet also increased to 75.2 million in 2020 from 74.2 million in 2019 according to the State of Food Security and Nutrition in the World 2022.
Among the significant contributors to food insecurity in the country include inflation, the Russia-Ukraine War, climate change-induced catastrophes, and of course the COVID-19 pandemic.
"Agriculture, food and nutrition security will be among the defining issues of the Philippines this decade and therefore systemic changes are needed to enable effective food systems transformation," Carlie Labaria, Environment and Natural Resources Sustainable Management Subgroup Leader of the FAO in the Philippines, said during the recent Inquirer Project Rebound webinar.

More effective food supply chain management
The agriculture sector has been hailed as the "backbone of the Philippine economy" yet its fullest potential has not been maximized due to some food system inefficiencies.
According to Ma. Elena Van Tooren, managing director of East-West Seed Foundation, the food supply chain is too long as it takes food products days and weeks to reach consumers, affecting their freshness, accessibility, availability and affordability.
It was noted by Labaria that reforms toward more effective food supply chain management should be implemented, including "investments to modernize transportation and logistical infrastructure." Shorter food miles with more dispersed distribution points should also be looked into.
Realizing the importance of market linkages, Pamela Castro, program manager and head of nutrition and food security programs of the Pilipinas Shell Foundation, Inc. (PSFI), shared that they initiated the "Ani Para sa Suki" to connect farmers to potential buyers and even the company's supply chain. During the pandemic, vegetables produced by farmers were sold at selected Shell stations or stores.
This is where urban agriculture comes into play.
According to Simon Villalon, president of Good Greens + Co, supply chains broke during the pandemic, making it difficult for food to reach metropolitan areas. He said that high-producing vertical farms within urban areas will be vital, especially because a large portion of the population is now moving into such places.
Through its urban gardening programs, PLDT-Smart is also encouraging Filipinos to grow their own food.
Technologies and farmer educationSimilar to other sectors, the pandemic has compelled the agricultural sector to accelerate its digital transformation, posing adaptive challenges for farmers and fisherfolk.
This prompted PLDT-Smart to launch its capacity-building initiative called Digital Farmers Program, which aims to enhance farmers' digital knowledge and skills to improve their livelihoods.
"Technology plays an important role in improving production, linking producers with buyers, and just overall improving the lives of our farmers," said Stephanie Arlino, head of stakeholder management team, corporate communications of PLDT and Smart.
Meanwhile, PSFI's Integrated Farming Bio-Systems, a program "intended to train farmers and community members on appropriate farming technologies," was also set in motion.
As one of its major programs, PSFI also established the Shell Training Farms to help increase food production and farmers' agricultural yield through the demonstration of the latest agricultural technologies and sustainable practices in agriculture.The role of local governments
Despite being the producers of the food that we eat, farmers are among the hungriest due to their lack of economic capacity to access food.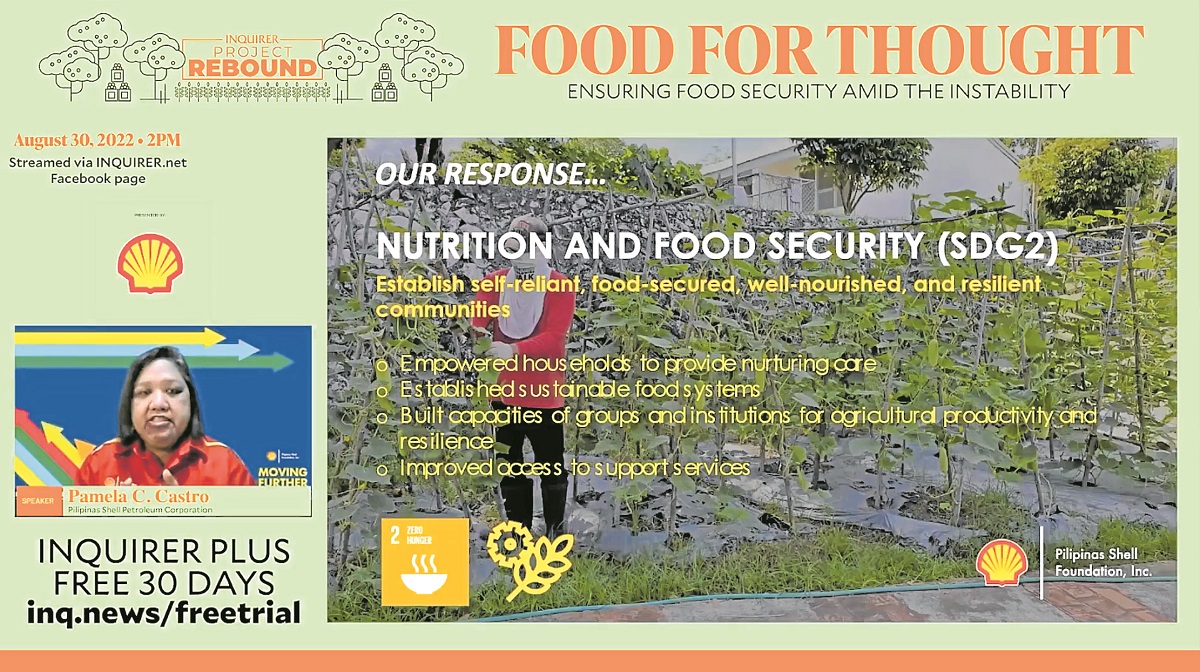 Arsenio Go Barcelona, president of Harbest Agribusiness Corp., pointed out that food security is a responsibility of local government executives and that they should be more accountable for the state of their constituents.
It is also essential that local governments work together with other public and private organizations to further solve agricultural issues.
Van Tooren has urged each local government to prepare their own food security map by asking these questions: What do they have? What do their neighbors have? What can be done to augment the gaps?
Doing our partAs Barcelona said, the effects of external factors such as the pandemic and the Ukraine-Russia War cannot be controlled and thus there is a need to start consuming local products.
He also encouraged young Filipinos to seize opportunities in the sector by participating more in agricultural activities such as learning how to raise animals for food.
Echoing this concept is Dr. Rogelio Concepcion from the Philippine Association of Agriculturists, Inc. who said that the young generation should start immersing themselves in gardening.
When asked about what corporations and organizations can contribute, Villalon mentioned that everyone should work together and be open to sharing information with each other.
Dr. Concepcion also encouraged corporations to work with small farmers by providing them with services, access to technology, and information.
Dr. Glenn Gregorio, center director of the Southeast Asian Regional Center for Graduate Study and Research in Agriculture disclosed that the organization formulated the National Agriculture and Fishery Modernization and Industrialization Plan. This aims to improve farm productivity and increase the livable income of farmers and fisherfolks in the next 10 years.
But if there's one thing that agricultural experts can agree on, it's this: food security is a "now" issue. It is important now, more than ever, to address problems surrounding agriculture, including the plight of our farmers and fisherfolk.
"The heartbeat of the country is measured by the condition of our farmers, so a happy farmer creates a happy and food-secure nation," Dr. Gregorio said. —By Rudy P. Parel Jr.