PLDT and Smart Communications, Inc. (Smart) are bringing new technology to Filipino farmers to increase productivity, upgrade skills and restore and rehabilitate farms damaged by recent calamities.
The telecommunications companies are partnering with similar-minded private groups and organizations in leveraging the latest digital technology advances to improve the livelihood of local farmers while ensuring sustainable production.
The day after the magnitude 7.0 earthquake hit North Luzon, PLDT and Smart undertook the scheduled Digital Farmers Program (DFP) in La Trinidad, Benguet with the Benguet Agri Pinoy Trading Center (BAPTC), one of the country's biggest vegetable and fruit trading facilities, where farmers from the Cordillera Administrative Region regularly drop and sell their produce at affordable prices. 
DFP, which was launched in 2019, is a digital literacy training program developed by PLDT and Smart with the Department of Agriculture – Agricultural Training Institute to help increase livelihood opportunities in farming communities by introducing digital tools and mobile technologies. 
The PLDT Group has also teamed up with Huawei Philippines in ARK (Advancement for Rural Kids) to upgrade the digital skills of farmer-entrepreneurs in four farming communities in La Libertad, Negros Oriental to boost their livelihood.
To support ARK's Arkita-Kita program, which seeks to provide budding entrepreneurs basic business skills to pursue their own businesses, PLDT, Smart and PLDT Smart Foundation (PSF), with mobile phone maker Huawei, handed over smartphones to ARK's local managers and storytellers.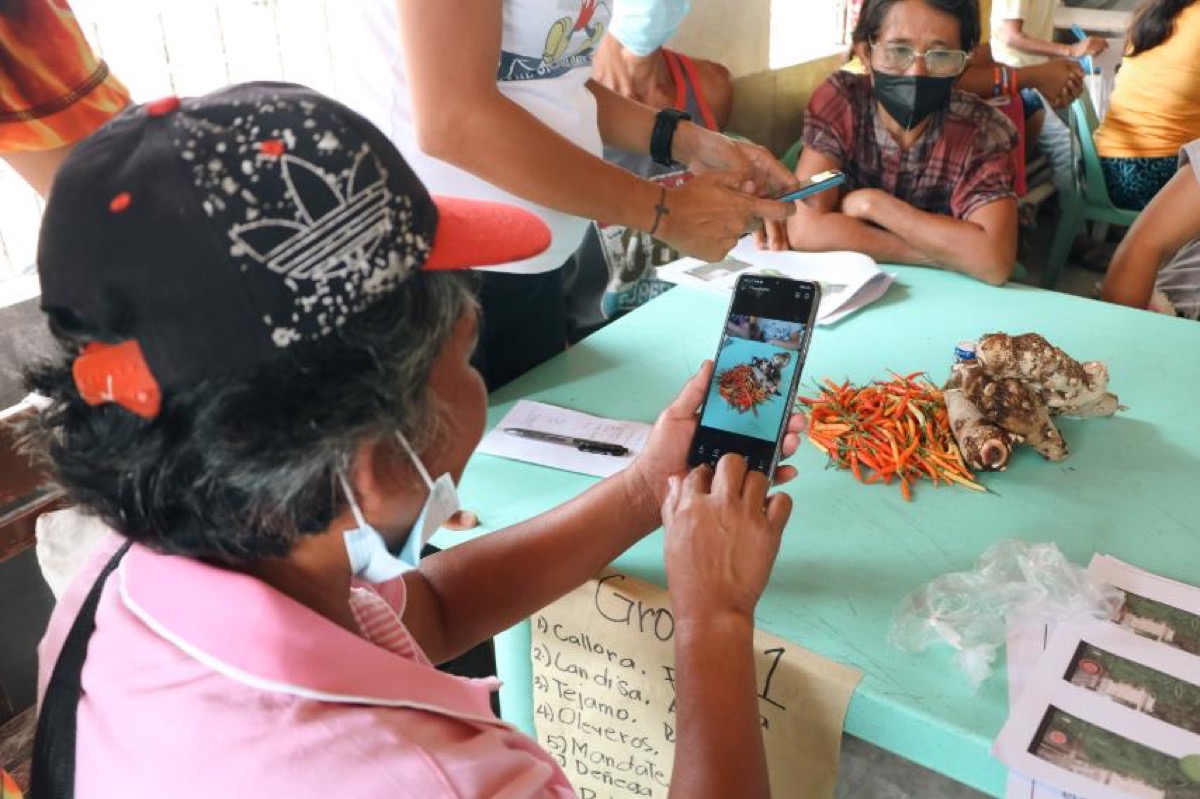 The partners also distributed 5G-powered SIM (subscriber identification module) cards to farmer-entrepreneurs.
PLDT and Smart collaborated with the Philippine Business for Social Progress (PBSP) and Mondelēz International in underscoring the need for food security. The telecom companies participated in the annual observance of National Nutrition Month through their twin food security programs, "Rice Together!" and "Buy Local".
In keeping with this year's theme, "New Normal na Nutrisyon, Sama-samang Gawan ng Solusyon!" (Working Together for New Normal Nutrition),  PLDT and Smart joined other organizations in implementing programs to address hunger, combat malnutrition and assist local food growers.  
Through "Rice Together!", PLDT and Smart supported Mondelēz International's Joy Schools during the pandemic and supplemented with two kilograms of white rice for 20 weeks the vegetables and other food products distributed to families.  
Joy Schools is a six-month feeding initiative implemented by PBSP. Snacks company Mondelēz provides nutritious food to students and their families in parts of Metro Manila to help fight hunger.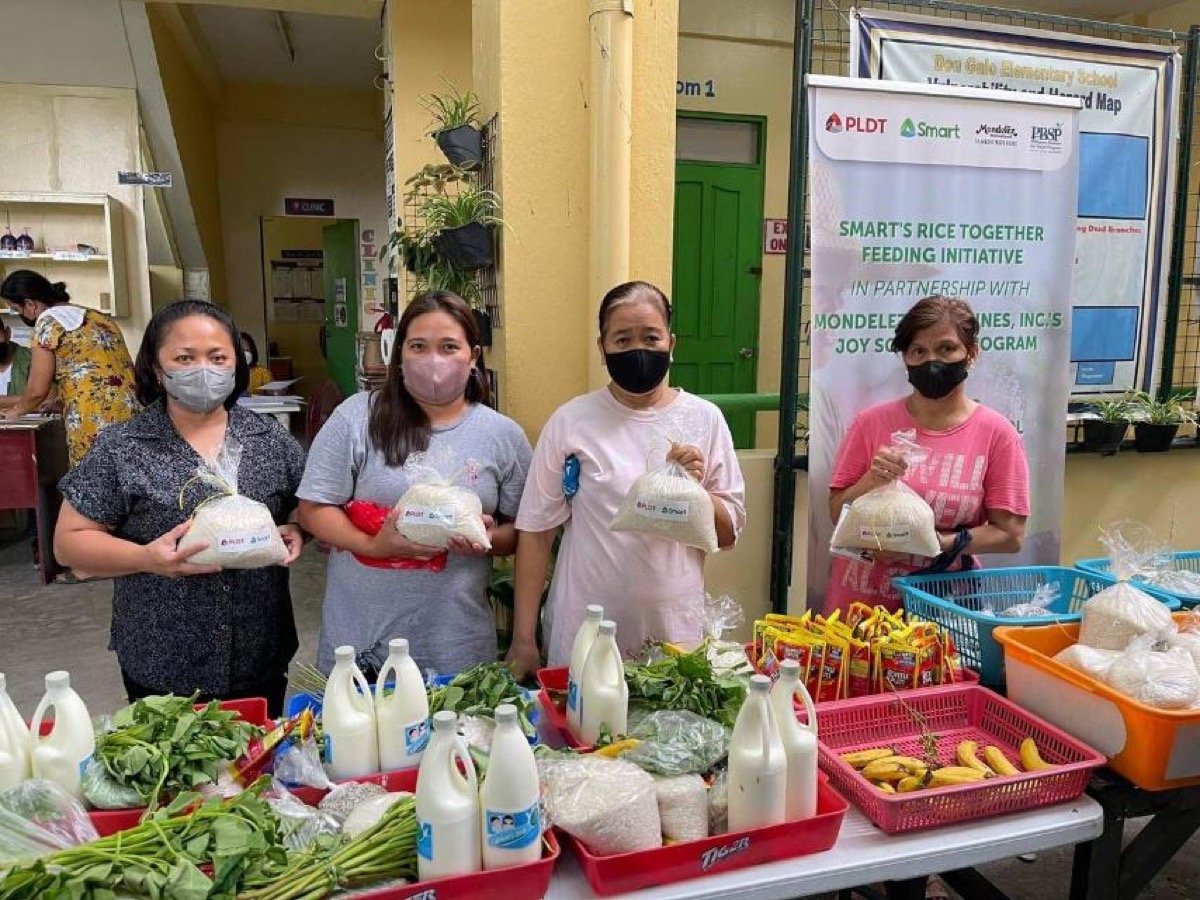 PLDT and Smart distributed 6,000 packs or 12 tons of rice sourced from farming communities they supported in Nueva Ecija through the "Buy Local" program, which helps provide farmers a sure market for their crops.
Through "Buy Local", the Nueva Ecija farmers who supplied the 12 tons of rice earned more than P500,000. Part of the sales proceeds will go to a sustainability fund that farmers can avail of as low-interest loans for farm inputs.  
Kristine Joyce Magadia, Stakeholder Management Lead for Livelihood and Food Security at PLDT and Smart, said these initiatives were concrete manifestations of PLDT and Smart's commitment to support and empower Filipino farmers by bringing technology closer to farming communities and buying their produce.
The programs are designed to support the country's achievement of the United Nations Sustainable Development Goal 8: Decent Work and Economic Growth. 
"PLDT and Smart aim to improve the livelihood of our local farmers through technology-driven programs and solutions, such as the DFP. We also want to empower and inspire them to learn new skills using mobile technology in agriculture."

—Kristine Joyce Magadia, Stakeholder Management Lead for Livelihood and Food Security – PLDT and Smart
The PSF, said Esther O. Santos, Foundation President, had always tried to find ways to support farmers. "We hope that with these smartphones (for ARK), our farmers can reach their buyers and improve their income."
The digital literacy program now also covers Barangay Cangabo, Elecia, Kansumandig and South Poblacion in La Libertad. Farmers were taught basic mobile photography, social media and agricultural applications, social media marketing, and internet safety to enhance their marketing skills and reach more prospective buyers.
"Technology is a very important tool for our farmers, and we must teach them better ways to access information and linkages that could help them with their livelihood'" said La Libertad Mayor Emmanuel Iway, who thanked the PLDT Group and Huawei for the program.
Ayesha Vera Yu, co-founder of ARK, said, "To solve hunger for good is not easy but it is possible. It is made possible when we work together and have great partners. In Smart, we have a partner who sincerely wants communities to be food secure, loves the simplicity and smartness of ARK's Feed Back vegetable exchange, and is committed to solving together."
On the collaboration with Mondelēz, Magadia said, "PLDT and Smart aim to find ways to help achieve food security in the country by collaborating with other organizations. By supporting 'Joy Schools', we can help address malnutrition among children and immediate hunger, while at the same time provide local rice farmers with sure access to market."
PLDT and Smart recognize the role of food security in improving the quality of life of communities and remain committed to the UN Sustainable Development Goals (UNSDG), particularly Goal Number 2, Zero Hunger.
The joint Rice Together and Joy Schools initiative reached 300 families in Balara Elementary School in Quezon City; and Don Galo Elementary School and Fourth Estate Elementary School in Parañaque City.
To know more about DFP and how to partner with PLDT and Smart, visit FarmSmartPH on Facebook.