Upstarts set up shop aiming to reach milestones, score breakthroughs and grow larger. With Globe and its ecosystem of solutions, invaluable help will empower them to fulfill their goals faster.
This is what Globe Business declared during "Tuloy-tuloy na Success," an online event held on  August 17 where the digital solutions titan emphasized its commitment to micro, small and medium enterprises (MSMEs) at a time of heightened digital adoption.
"In line with our overall mission of making families' dreams come true, seeing businesses flourish and the nation admired, Globe Business is committed to empower local MSMEs. We see our MSMEs as modern-day heroes who play a critical role in the nation's recovery as we come out of the worst of the pandemic."

—Globe President and CEO Ernest Cu
Globe Business is Globe's business-to-business arm.
Some 99.51 percent of local businesses are MSMEs, according to a 2020 government report. Together, they employ 62.66 percent of the nation's manpower.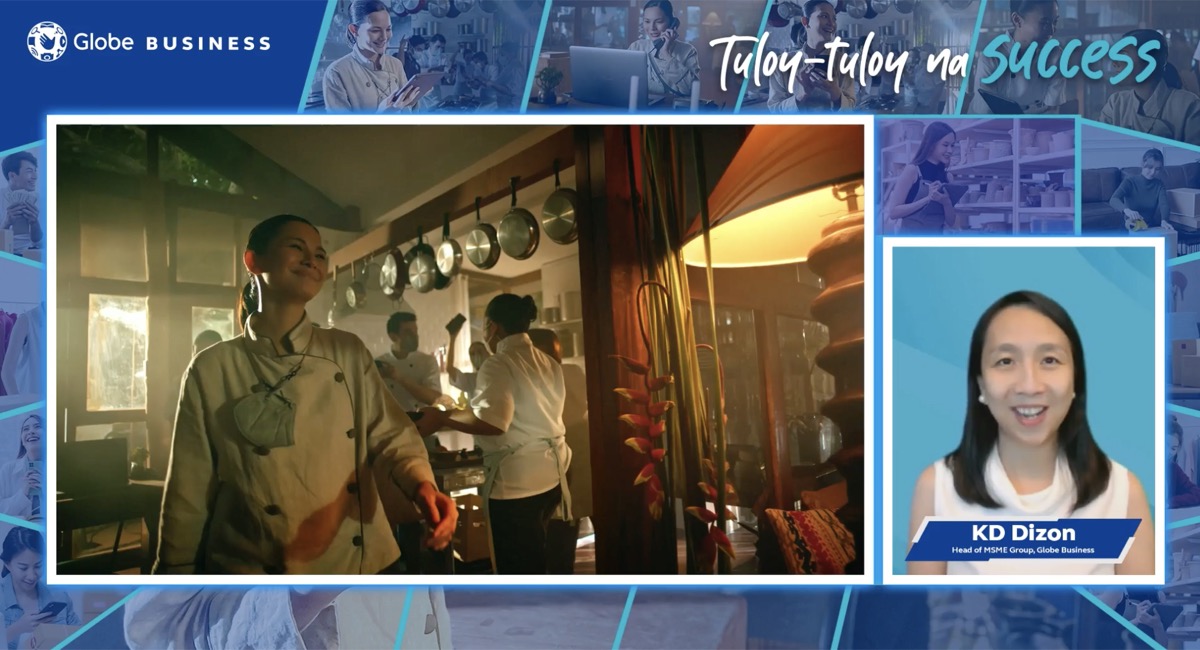 These businesses have shown resilience amid the pandemic, said KD Dizon, Head of the MSME Group at Globe Business. "They were quick to adopt digital platforms for business transactions and embrace non-cash payment options for their customers."
"Destined for bigger things," MSMEs could count on Globe Business' suite of digital products and services to soar, she said.
"As customers' needs evolve and as we move forward to a digital-first landscape, [MSMEs] also need to cross a digital transition," noted Angie Po, Product Marketing Head of the MSME Group of Globe Business.
She then explained Globe Business' offerings, responding to
customer engagement, inventory management and distribution;

employee engagement and productivity; and

business continuity, expansion and upskilling.
The first set of solutions includes ChatGenie, which helps MSMEs "reach their customers on the platforms they already use and manage all transactions across different channels," said Po. 
Compatible with Instagram, Facebook, Viber and GLife, ChatGenie makes ordering easy for customers. Business owners can also conveniently check the orders, plus their inventory and sales.
For deliveries, Globe Business offers Vehicle Tracker, an easy-to-use software to monitor MSMEs' vehicle fleet and deliveries in real time.
The second batch of solutions centers on Cloud Payroll. This software automates and fast-tracks payroll processing, normally susceptible to human error when done manually.
Among its functions is the "selfie time-in," where employees submit selfies to check in at work. Their photos end up on a navigable dashboard that, in turn, belongs to a secure portal storing worker information, time records and compensation, among others.
Connectivity being all-important, Globe Business also provides made-for-business postpaid plans. GFiber Biz Plus Plan 2499, for example, provides unlimited internet connectivity of up to 200 Mbps, a WiFi modem and two meshes, and a landline with unlimited calls. 
What's even better with GFiber Biz Plus is connectivity that has equal upload and download speeds. This improves video conferencing and streaming experiences, and enables MSMEs to accomplish online tasks – such as uploading and downloading files – much quicker.
Another important component of Globe Business' support for MSMEs is an array of initiatives to help entrepreneurs develop their business acumen, said Po.
On Aug. 25 and 26, Globe Business held Innovation Summit 2022 online, bringing together business owners with innovators, tech experts and advisers. Available now on Globe Business' YouTube channel is "At Your SerBIZ," a Web-based talk show featuring MSMEs.
The Globe myBusiness Academy website features learning modules, business hacks and expert insights that member entrepreneurs may access for free. There's also Upstart, a loyalty program giving Globe Business MSME partners exclusive perks, mentoring and community-building.
"We are committed to [MSMEs'] needs and to provide solutions that go beyond the surface to help them charge towards exponential growth that positively impacts their families, communities and even the nation," Dizon vowed.