Maya Business, the country's largest digital payments processor for key industries, leapfrogs the digital transformation of Philippine enterprises and government institutions with its integrated payment acceptance solutions and progressive digital banking services.  
Formerly PayMaya Enterprise, the new Maya Business was relaunched in July, along with new services to boost the growth of its partner enterprises.  
Maya Business seamlessly integrates omni-channel payment acceptance solutions, business-to-business (B2B), and business-to-government (B2G) payments, with digital banking services through Maya Bank, including a high-interest business deposit account and a range of credit products for enterprises and their customers.  
At the relaunch of Maya Business in July, Secretary Alfredo E. Pascual of the Department of Trade and Industry (DTI) and Bangko Sentral ng Pilipinas (BSP) Governor Felipe Medalla stressed that digital transformation of businesses was a critical component of sustainable economic growth and inclusion. 
Maya Business is a natural progression of the company's commitment to help achieve the national goals of financial inclusion. It brings a wider range of solutions and the right tools to meet the different needs and situations of Filipino businesses, from micro enterprises to conglomerates, from online sellers to brick-and-mortar merchants. 
Maya Business offers merchants the broadest range of payment acceptance solutions, allowing businesses to accept any credit, debit, and prepaid card, scan-to-pay via QR, or via Maya wallet, whether online or on-ground. Solutions include Maya Checkout for online payments, Maya Payment Links for digital invoicing, Maya QR enabled by QR Ph Person-to-Merchant (P2M) payments – the national standard promoted by the BSP, and Maya Terminal, the country's first android point-of-sale device.  Business owners and corporations can fast-track their business growth with a fully digital bank account that offers free PesoNet transfers and a 1.5% interest rate, four times higher than traditional banks. This feature is currently available for existing Maya Business clients.  On top of payment acceptance, Maya Business also offers a disbursement platform that enables organizations to efficiently distribute funds to their employees, suppliers, or citizen beneficiaries.  Given the wide range of services offered by Maya Business, the company easily becomes the all-in-one growth partner for all types of enterprises.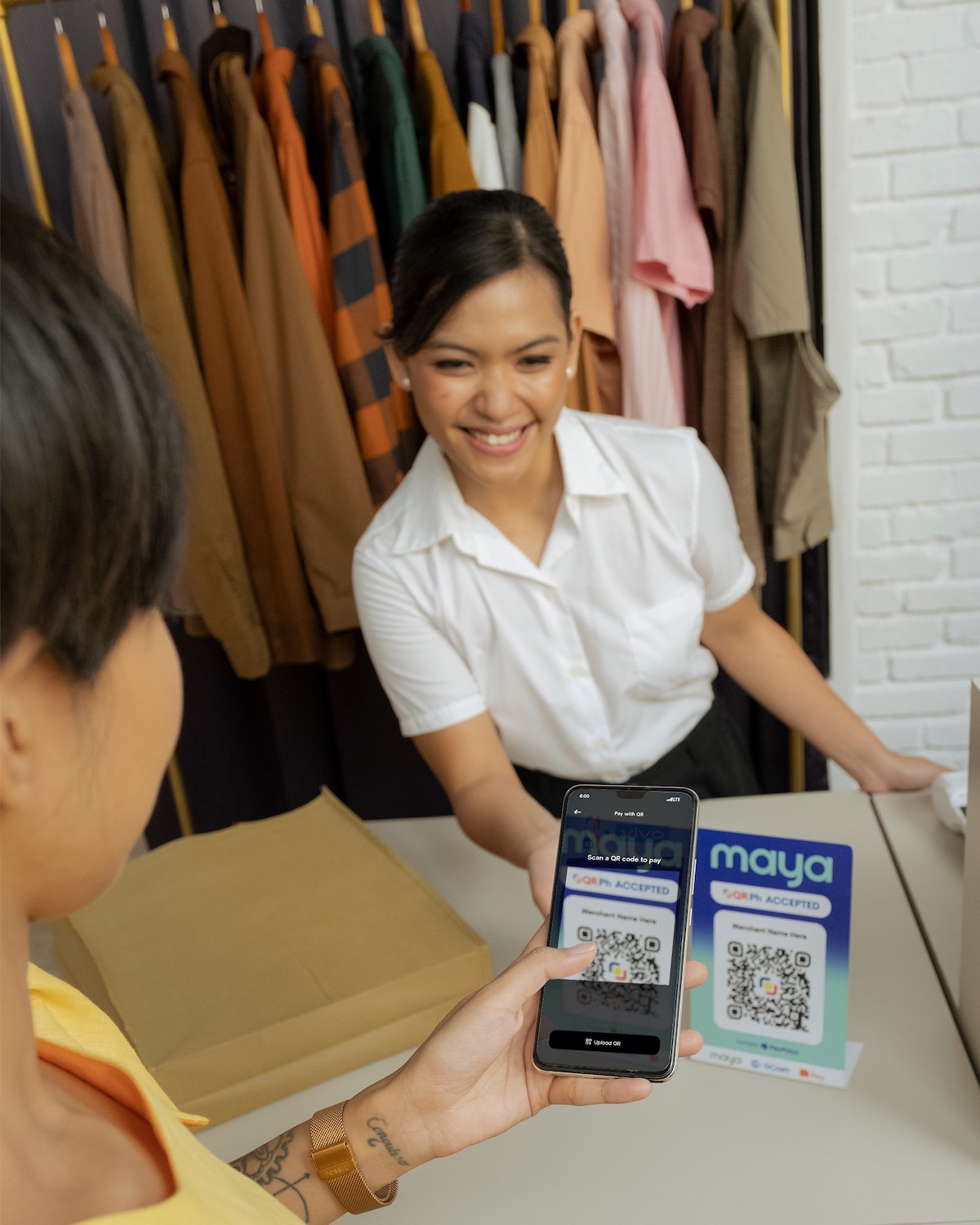 Maya Business' contributions to the digital transformation of government operations and services were also acknowledged by DTI Secretary Alfredo Pascual. Through Maya, he said online cashless payments for business name registration more than doubled from 35 percent in 2019 to 73 percent in 2022. 
The secretary said facilitating digital payments and promoting digital financial services were essential components of the administration's economic agenda but the government needed the private sector's help to achieve its digital transformation goals. According to Pascual, Maya is crucial in DTI's transition to e-government. 
In the private sector, among the prominent users of Maya's digital financial solutions suite is Suyen Corporation, owner of the popular clothing brand Bench. With the thrust of providing convenience, giving more options to consumers, strategic promos and rebates, and the seamless integration of solutions in its website and stores, Suyen Corporation almost doubled its year-on-year volume for cashless payments processed by Maya Business. 
McDonald's accelerated its digital transformation journey by partnering with Maya Business for their self-order kiosks with integrated checkout at their NXTGEN stores. Meanwhile, Jollibee Group incorporated Maya's digital payments in its various platforms in 2020, allowing it to embrace the change and meet the demands of consumers even at the height of the pandemic.   
With the name change, Maya is looking forward to bringing its digital financial solutions to even more businesses and users as it reiterated its commitment to help accelerate digital transformation among enterprises and consumers in line with the national targets under the Digital Payments Transformation Roadmap 2023 and eCommerce Philippines Roadmap 2022. 
"As a growth and transformation enabler, we are embedding our digital Maya solutions into the operating systems of our merchants, big or small, online or physical," said Orlando B. Vea, PayMaya founder-chief executive officer and Maya Bank co-founder. 
Shailesh Baidwan, PayMaya Philippines group president and Maya Bank co-founder, said Maya had become an all-in-one growth partner for businesses, enabling customers with new digital financial services.  
"With the new Maya Business, we're creating the future of the enterprise, unleashing digital at a faster speed and on a broader scale," said Manuel V. Pangilinan, Chair of Voyager and PayMaya, and Chair Emeritus of Maya Bank.  
Visit maya.ph/business and follow @MayaBusinessPh on Facebook.