Innovation, adaptation and technology have helped the logistics sector of the Philippines overcome disruptions and deliver goods, people and services wherever and whenever they are needed.
But panelists in the recent edition of Inquirer Project Rebound on "Logistics Sector: Driven despite Disruptions," agreed that the system needed tweaking as the Philippines moves fully out of pandemic mode and faces new economic challenges ahead.
The latest Rebound session, moderated by Dax Lucas of the Inquirer's Business section, featured Rynor Jamandre, chair of American Chamber of Commerce Infrastructure and Logistics Committee; Ray Caguin, Philippine market lead and associate director of Locad, a new logistics company; William Chiongbian II, group president and chief executive officer, FAST Logistics Group; and Christopher Nelson, executive director and trustee, British Chamber of Commerce Philippines.
Logistics, put simply, is the process of moving resources—people, materials, inventory and equipment—from one location to another for storage or delivery to their final destination.
Jamandre, in his keynote presentation, stressed that logistics needed good infrastructure to be efficient and effective. Logistics and infrastructure had a mutually beneficial relationship.
"Good infrastructure makes the logistics sector thrive while [efficient] logistics leads to better and stronger infrastructure," he said.
An engineer, Jamandre pointed out that infrastructure did not only cover roads and bridges. Telecommunication facilities, seaports and airports, schools, health institutions, etc. were part of the nation's infrastructure.
Jamandre said logistics served all infrastructure types. Without logistics, equipment and materials could not get to sites of infrastructure projects.
Metro Manila and its ports remained the main hub for the deployment of goods and services. With road congestions in the metropolis becoming "normal" again as the country opens up for business as usual, Jamandre recommended developing the countryside to ease the pressure on Metro Manila and develop new growth areas.
"North Luzon will be the next growth area but I hope there will be more countryside development in Visayas and Mindanao," Jamandre said. Building new roads and highways would not solve the congestion problem in Metro Manila and suburbs, he pointed out, as they would only result in more vehicles being out on the streets.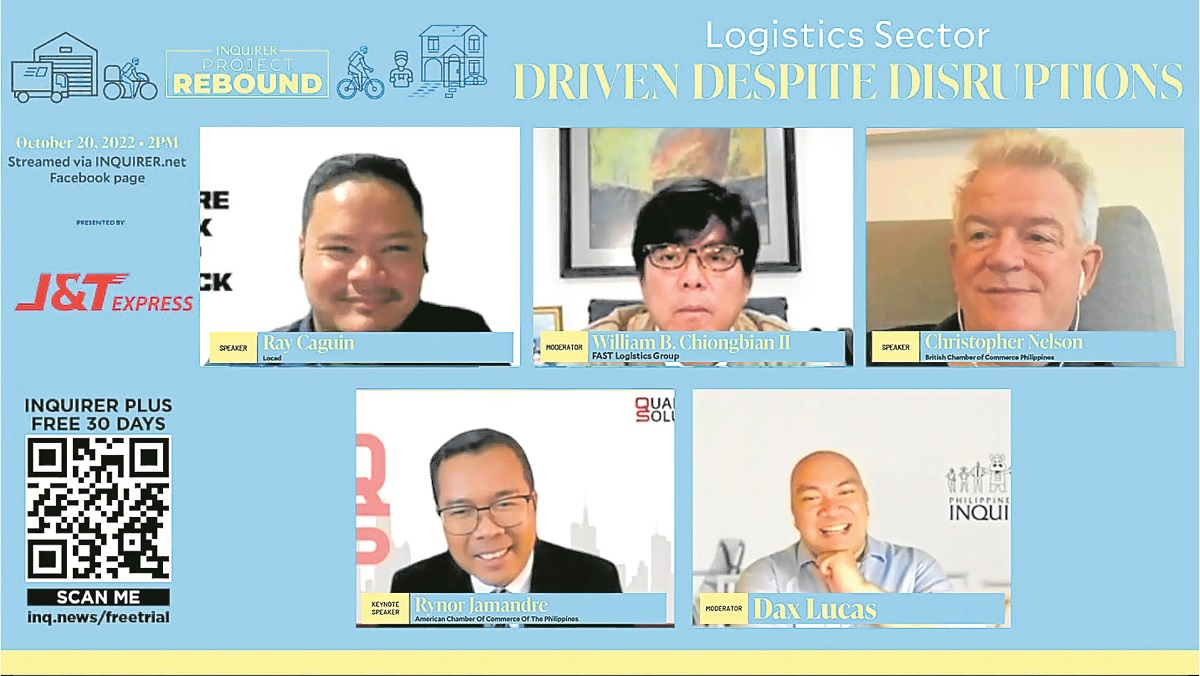 "We need to create more opportunities in the countryside so people will not have to come to Metro Manila," he stressed. Jamandre also underscored the need to invest in more efficient and effective mass transport systems and for individual urban plans to be coordinated and synchronized under one, doable national urban blueprint.
That the country was capable of adapting to new circumstances and adopting new strategies to survive and thrive was shown by the response to the COVID-19 pandemic.
House construction
Jamandre pointed out, "e-commerce and delivery grew because of COVID-19." There was also an uptick in house construction outside of commercial business districts as work arrangements and lifestyles changed.
Chiongbian attested to how the pandemic led to new ways of doing things which, for FAST, even meant growth in double digits. Adhering to its corporate value of putting customers, people and process top of mind, he said they crafted solutions using both modern technology and "brick-and-mortar" responses to problems created by the pandemic.
The company ensured the health and safety of its staff and saw to it that it was able to respond to its customers' needs, including providing accommodations for workers who had to work to get goods, services and people moving during lockdowns and quarantines, so they did not have to risk infection by going out of the facilities.
Technology was used to monitor FAST's fleet of vehicles and to improve the warehousing system, among other things, Chiongbian said. To deal with rising costs because of inflation caused, in large part, by rising fuel prices because of the protracted Russia-Ukraine conflict, he said they were trying to find ways to lessen waste and shift to renewable energy.
The company, he added, was also looking at ways to optimize the use of resources by reducing empty spaces in cargo vehicles and storage facilities.

Multiwarehouse setup
Chiongbian pointed out that, while the COVID-19 crisis was unique, logistics in the Philippines had to deal with disruptions regularly. "The country averages 20 typhoons a year, with [about] five being very destructive."
Caguin agreed with Jamandre that infrastructure was crucial to an efficient and successful logistics business. However, "infrastructure is good only if it achieves its intended purpose," he said.
With more foreign sellers wanting to enter the Philippine market and local merchants hoping to expand beyond their current locations, Caguin said Locad had adopted a multiwarehouse setup. Goods were stocked in warehouses closest to the target clients and/or buyers.
Caguin dismissed the notion that it was cheaper to buy imported goods than local items because of transport and other add-on costs. Through efficient logistics, such as Locad's multiwarehouse setup, local goods could be competitive in prices.
Nelson stressed that "logistics was a key challenge" in the recovery efforts but was also a "key strength if used correctly." As Jamandre had said, Nelson emphasized that work was needed to get rid of bottlenecks and congestions.
The long-time Philippine resident said the country was a very important market and could be a gateway to the other members of the Association of Southeast Asian Nations
Good prospects
All panelists expressed optimism that prospects for the Philippines were good in the medium and long-term, although there might be some difficulties to be overcome in the short-term.
Jamandre pointed to the much-vaunted Filipino resiliency as a major advantage for the country, as it enabled people to adapt quickly to changing situations. His faith that the Philippines would survive and grow despite the challenges and disruptions was also bolstered by the new government's economic team, which includes Finance Secretary Benjamin Diokno, Trade Secretary Alfredo Pascual and Bangko Sentral ng Pilipinas Governor Felipe Medalla.
But he also recommended, and Nelson agreed, the government should open up investment to multinational groups. Nelson said significant opportunities for growth existed and the country had to further liberalize the economy.
The government and all public institutions and agencies should be doing what they were supposed to be doing, Caguin said, to strengthen confidence in them.
Chiongbian said the country's young and growing population was creating demand that was lifting the logistics sector. They had to innovate and harness technology to respond to this demand.
"Logistics—such as fully loaded trucks on the streets—is a better visual barometer [measure] of the health of the economy," according to Jamandre.
Header photo: Adrian Sulyok on Unsplash