To say e-commerce is growing in leaps and bounds is not just a cliché.
Assistant Secretary Mary Jane Pacheco of the Department of Trade and Industry (DTI) said from a mere 2,068 online brand name registrations from January to March 2020, before the corona virus disease 2019 (Covid-19) pandemic, the number rose to 88,363 from April to December.
As people stayed indoors due to lockdowns, quarantines and other health restrictions, merchants had to quickly transform their strategies to meet the needs of less mobile consumers and survive until the crisis passed.
At a recent edition of the Inquirer Project Rebound series, Pacheco presented statistics that showed, among other things, that as of 2021, the Philippines was "the fastest growing market" in Southeast Asia for internet economy, e-Conomy, reaching US$17 billion in 2021.
The Rebound session focused on "Revenge Shopping: Preparing for Unprecedented E-Commerce Growth".
DTI records, as presented by Pacheco, showed that "e-Commerce GMV (gross merchandise value) increased by 400 percent from 2019 to 2021". The market size of US$12 billion in 2021 is expected to more than double, US$26 billion, by 2025.
While Covid-19 was devastating to life and business, experts agree it sped up the adoption of financial technologies. The learning curve was abbreviated for most Filipinos, both sellers and customers.
Unable to pay cash because they could not withdraw money personally over-the-counter in banks or even at automated teller machines (ATM), buyers were left with very little choice but to master cashless payments through electronic wallets or e-wallets or online bank transfers.
Health concerns also pressured merchants not only to put their stores online but also to adopt safe and secure payment systems that would reduce the use of cash. DTI figures showed that some 39 percent of merchants surveyed believed they would not have survived the pandemic without the digital platforms.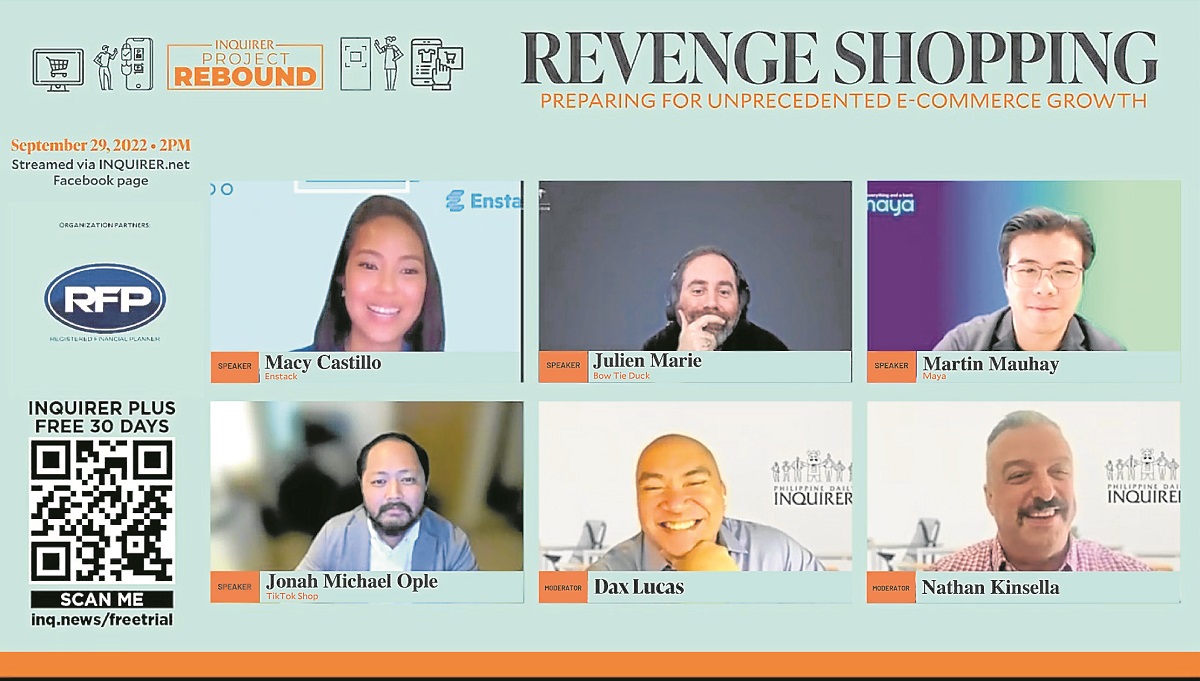 Pacheco reported that digital merchants were getting technology savvy and were expected to gain more expertise in the use of digital tools in the future.
DTI is helping move forward this digital journey, particularly of micro, small and medium enterprises (MSMEs) that are the backbone of the Philippine economy, accounting for more than 90 percent of businesses. It has drawn up an e-commerce self-assessment toolkit to help MSMEs assess their capability and/or readiness for digitalization.
The department, Pacheco said, had come up with the program BASTA e-Commerce Madali to help online merchants. Taken at face value, the Filipino word Madali simply means fast and easy, but for DTI it signifies easy and convenient market access, digitalization and logistics integration.
Help is also coming from shopping platforms, other MSMEs and fintech purveyors.
Macy Castillo of Enstack, a free and easy-to-use SME super application that allows entrepreneurs to run their business from their mobile phones, said they shared DTI's vision and were helping achieve logistics integration for enterprises.
Martin Mauhay of the digital payment pioneer and all-in-one money platform in the Philippines Maya (formerly PayMaya) said they "were trying to educate merchants and consumers on how to digitize business and payments". Maya was accelerating cashless transactions and changing the way of doing business.
Mauhay said people wanted platforms that were trusted and convenient.
Julien Marie of Bow Tie Duck, an online delicatessen and gourmet food and groceries delivery platform in Metro Manila, also stressed the need to focus on education. "E-commerce is a totally different (experience) for some people," he pointed out. "The behavior of people online is totally different from (their) physical shopping (habits)."
Education was also stressed by Jonah Michael Ople of Tiktok Shop.
"People had been (shopping offline) and (are now moving to) e-commerce. The transition can be tricky." People had to learn how to interact with others on a different platform.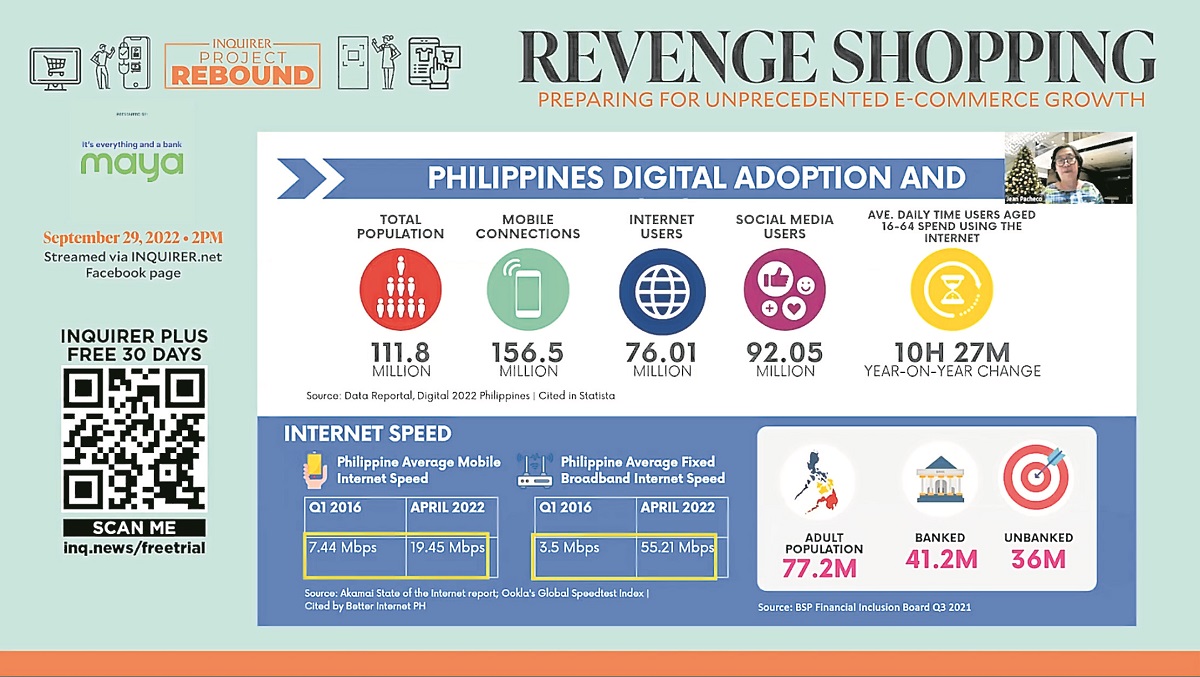 Tiktok was educating MSMEs to use its platform to grow their businesses, Ople said. It was offering the different experience of livestreaming and the use of video to promote a business. A clothes seller, for instance, could have models wearing its products and viewers could make their purchases in real time as they watch the presentation.
Enstack, Castillo said, was helping not just MSMEs digitize their business but even individual service providers like manicurists and drivers.
But Marie cautioned merchants moving into the online realm that it would not be easy to expand quickly. "There is a learning curve involved," he said, "and (merchants) have to move little by little." Processes were really different between offline and online selling and consumer expectations also varied.
While market was bigger online, so was competition, Marie pointed out. But he advised online merchants to keep their focus on customers. "Competitors don't pay (for products and services), customers do," he stressed.
Castillo said their superapp simplified and streamlined the process of going online for small businesses. Through the superapp, e-commerce shops had access to Enstack's suite of services.
Marie said he shared with friends his experience growing his business and helped them iron out their own issues, not with technology but processes – the intertwining of human and technology elements. He suggested that online businesses should look at websites that they liked, use them as models and adapt their own online presence by adding personal touches – personalize and customize.
Ople stressed that focus should be on authenticity and accessibility. Merchants should know each platform's policies and rules, know how to deal with the different platforms. More importantly, they should know where their customers were and how they could reach them.
Enstack, Castillo said, was doing some "handholding" for its partner merchants, helping ensure that they had what they needed.
As for the future, although Pacheco expected e-commerce to grow even more, with the easing of health restrictions, the other speakers expected that a hybrid system would become the norm.
Marie pointed out that in the United States, brick-and-mortar merchandising was reportedly growing faster than e-commerce. After almost two years of virtual isolation, people eager to do some revenge shopping were also looking to enjoy the outdoors and enjoy face to face interactions again.
He expected online and offline markets to complement each other. Certain products would be bought online, such as electronics, while consumers would prefer to get other items, like grocery and fresh produce, offline. The challenge would be how to optimize both experiences for merchants and customers.
Ople agreed that a hybrid system would emerge and sellers had to be able to use available tools to win over consumers offline and online.
Mauhay said payment platforms like Maya had to offer services and solutions for both offline or online systems and respond to consumer needs. Merchants should find where customers were and provide the services they needed. The platform they used should adapt to the consumers' experiences and requirements.
Header photo: Firmbee.com on Unsplash